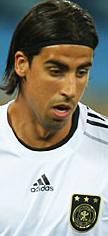 When Sami Khedira and his Under-21 team‑mates held aloft the European Championship trophy last summer, after humbling England 4–0 in the final, they dreamed of changing the face of German football. Little did they know that their opportunity would come so quickly.
After Euro 2008, Joachim Löw, the Germany manager, accepted the need to "rejuvenate" a squad that had become too heavily seasoned in parts. He has done so in spectacular fashion. And once Löw had done with filleting his squad, the players he turned to were almost all from the next generation.
The youth of this new Germany, however, is only part of the story. The country has changed greatly over the past decade or so, with its society becoming more integrated, and Löw's squad reflects what the tabloids like to call German "multi-culti". Of the six players promoted from Horst Hrubesch's U-21 champions, five are of immigrant backgrounds. Khedira's father is Tunisian and Ozil is of Turkish descent. Jerome Boateng's father is Ghanaian, Dennis Aogo's is Nigerian while Marko Marin was born in Bosnia.
There remains a section of Germany's support that struggles to come to terms with the multiculturalism, traditionalists who complain about some of the players not singing the national anthem. Ozil murmurs verses from the Koran when it plays. But Aogo says "people shouldn't attach too much importance" to this. "I don't sing the national anthem and I am still proud to play for Germany."