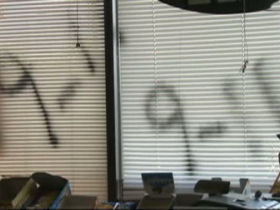 COLUMBUS, Ohio — Police were searching for the person or people who broke inside a north side market late Saturday night. Cash from the register and a laptop computer were stolen, and several display cases were vandalized, 10TV's Glenn McEntyre reported.  Also, "9/11" was spray-painted on countertops and windows.
The owner of Jaffa Market, located in the 5200 block of Godown Road, said that he received a call from his alarm company on Saturday at about 11:15 p.m., notifying him of the break-in. "When I did come inside, I (saw) the glass everywhere," said the storeowner, who requested anonymity.
The storeowner, who is Muslim, said it was clear he was targeted because of his religion.
A man who said he is a close family friend of the storeowner said that recent controversies about a mosque proposed near ground zero in New York and a Florida pastor who threatened to burn the Quran increased tensions.