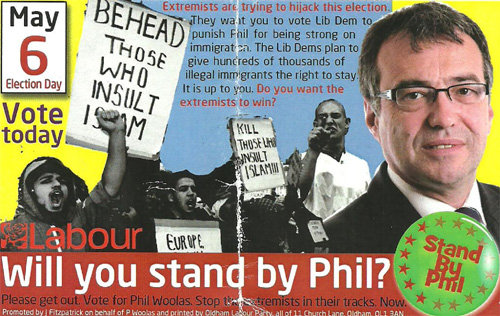 Ex-minister Phil Woolas was yesterday accused of whipping up racial hatred in his fight to stay an MP. A special court was told his Labour team tried to make "white folk angry". Mr Woolas saved his Oldham East and Saddleworth seat in May by 103 votes after two recounts.
In the first case of its kind for 99 years, defeated Lib Dem candidate Elwyn Watkins alleges the vote was swayed by leaflets containing false claims. Labour tried to stir "the white Sun vote" by suggesting Muslims aimed to "take Phil out", High Court judges sitting in the constituency heard.
Daily Mirror, 14 September 2010
The Daily Mail report features illustrations of some of the headlines generated by Woolas's anti-Muslim campaign.
Update:  See also ENGAGE, 14 September 2010