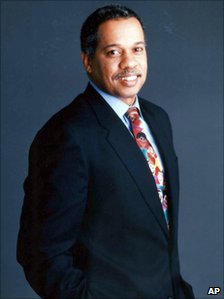 US broadcaster National Public Radio has fired news analyst Juan Williams for saying on Fox News that he gets nervous if he sees Muslims on a plane.
Williams, who has written several books on the US civil rights movement, made the remarks last week on chat show The O'Reilly Factor.
NPR said in a statement that Williams's contract had been ended on Wednesday.
Fox News later signed Williams up as a contributor on a multi-year contract, reportedly worth $2m (£1.3m).
In a discussion on Muslims and 9/11 on the O'Reilly Factor, outspoken conservative presenter Bill O'Reilly said: "The cold truth is that in the world today jihad, aided and abetted by some Muslim nations, is the biggest threat on the planet."
Williams said he concurred with O'Reilly.
"I mean, look, Bill, I'm not a bigot. You know the kind of books I've written about the civil rights movement in this country," Williams replied. "But when I get on the plane, I got to tell you, if I see people who are in Muslim garb and I think, you know, they are identifying themselves first and foremost as Muslims, I get worried. I get nervous."
The Council on American-Islamic Relations said before Mr Williams was sacked that such commentary from a journalist about other racial, ethnic or religious minority groups would not be tolerated.
In its statement, NPR said Mr Williams's comments "were inconsistent with our editorial standards and practices and undermined his credibility as a news analyst with NPR".
Mr Williams has also served as a reporter and columnist for the Washington Post.
Later on Thursday, Fox News chief Roger Ailes offered Williams a deal to appear on Fox programmes and to write for FoxNews.com.
"Juan has been a staunch defender of liberal viewpoints since his tenure began at Fox News in 1997," Mr Ailes said in a statement, according to the Los Angeles Times, with a reference to National Public Radio. "He's an honest man whose freedom of speech is protected by Fox News on a daily basis."