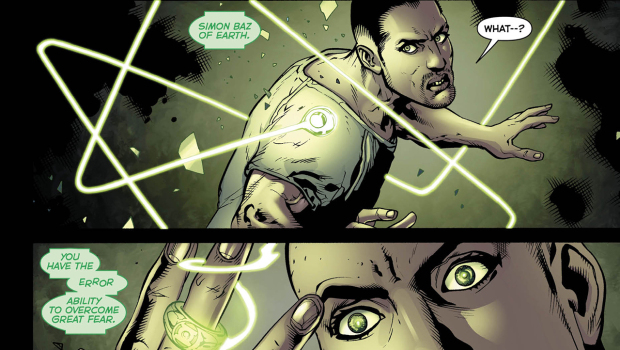 When DC Comics decided to blow up its fabled universe and create a brave, diverse future, Geoff Johns drew from the past for a new character: his own background as an Arab-American.
The company's chief creative officer and writer of the re-launched "Green Lantern" series dreamed up Simon Baz, DC's most prominent Arab-American superhero and the first to wear a Green Lantern ring. The character and creator share Lebanese ancestry and hail from the Detroit area, which boasts one of the largest and oldest Arab communities in the United States.
"I thought a lot about it – I thought back to what was familiar to me," Johns, 39, told The Associated Press by phone last week from Los Angeles, where he now lives. "This is such a personal story."
Baz's story begins in a standalone "zero issue" available Wednesday that's part of a companywide effort to fill in the gaps or tell the origins of a character or team. Johns has no plans for Baz to fade into the background – the character in February is bound for the Justice League of America, one of DC's premier super team books, to fight alongside Green Arrow, Catwoman and Hawkman.
Johns said he took economic as well as ethnic cues for the character from his native Detroit area, with Baz resorting to stealing cars after being laid off from his automotive engineering job. He steals the wrong car, which inadvertently steers him into a terrorism probe and, eventually, an unexpected call to join the universe's galactic police force.
The olive-skinned, burly Baz hails from Dearborn, the hometown of Henry Ford and the capital of Arab America. His story begins at 10 years old, when he and the rest of his Muslim family watch their television in horror as airplanes fly into the World Trade Center on Sept. 11, 2001. Events unfold from there as U.S. Arabs and Muslims find themselves falling under intense suspicion and ostracism in the days, months and years following the attacks.
"Obviously, it's affecting everybody," said Johns, who grew up in nearby suburbs in a Lebanese Christian household and got into comics when he discovered his uncle's old collection in his Arabic grandmother's attic. "One of the things I really wanted to show was its effect on Simon and his family in a very negative way."