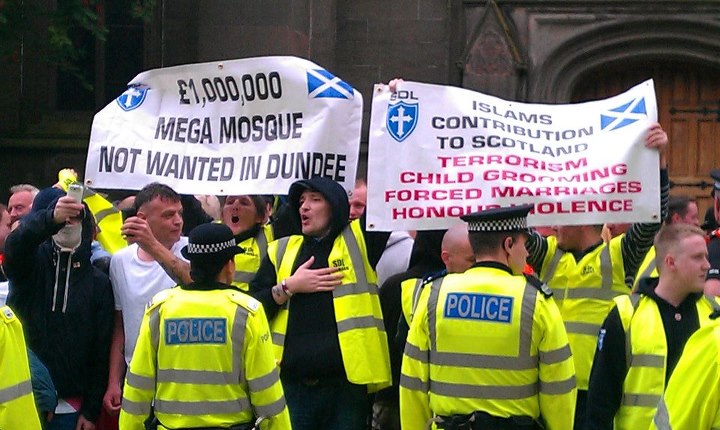 The humiliation of the English Defence League in Walthamstow has attracted most of the attention, but another flop for "counterjihad movement" took place in Dundee on Saturday, where the EDL's sister organisation the Scottish Defence League staged a protest, primarily against a so-called "mega mosque" on the Al-Maktoum College of Higher Education campus, construction of which is due to start this month, providing 70 jobs for local people.
The SDL has a very low level of support in Scotland itself, and as Dundee trades council secretary Mike Arnott noted in a report for the Morning Star: "To enhance its minuscule numbers at demonstrations in Scotland the SDL also invites its unsavoury allies from the north of England along – the EDL and the North East and North West Infidels, whose reputations for thuggery are well known."
SDL organiser Graham Walker had openly admitted to these links in an interview with The Courier, warning that there would be a significant turnout for the protest. Under the headline "Scottish Defence League organiser tells Dundee to expect big right-wing presence on September 1" the paper reported that "around 150 far-right demonstrators" were expected to arrive in the city. On Saturday morning the Courier claimed that "busloads of activists" were on their way to Dundee, including former leading figures in the British National Party.
In the outcome only 80 SDL turned up, according to the Courier, compared with "a counter demonstration by several hundred anti-racism and anti-fascism campaigners, operating under the Dundee Together banner, in the City Square". (Other accounts put support for the SDL protest at an even lower figure.) The SDL held a 45-minute static protest (the city council having exercised its powers to prevent them marching), during which they threw the occasional Nazi salute at their opponents who surrounded them, and then the police escorted them back to their two half-filled coaches and out of Dundee.