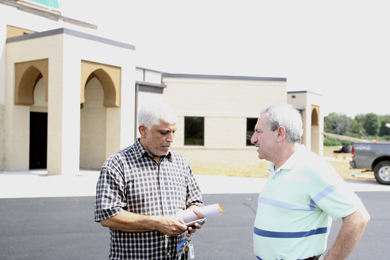 The Islamic Center of Murfreesboro was granted a temporary 30-day certificate of occupancy Tuesday morning by officials with the Tennessee State Fire Marshal's Office.
Islamic Center leaders said they plan to apply for a local occupancy certificate Tuesday afternoon at the Rutherford County Building Codes Department. "We plan to submit the paperwork to (Rutherford) County this afternoon," said Essam Fathy, chairman of the board for the Islamic Center.
The fire marshal approved the temporary occupancy certificate after a few adjustments were made to the onsite sprinkler system, following an initial inspection Friday at the new mosque, located on Veals Road off Bradyville Pike.
"We are hoping to have our first prayer Friday inside the new building," said Islamic Center board member Saleh Sbenaty, an engineering professor at Middle Tennessee State University.
Islamic Center leaders said they are very pleased with the progress, noting the entire Muslim community is looking forward to being able to worship in the new mosque. "Our children are thrilled and ecstatic about the news," Sbenaty said.