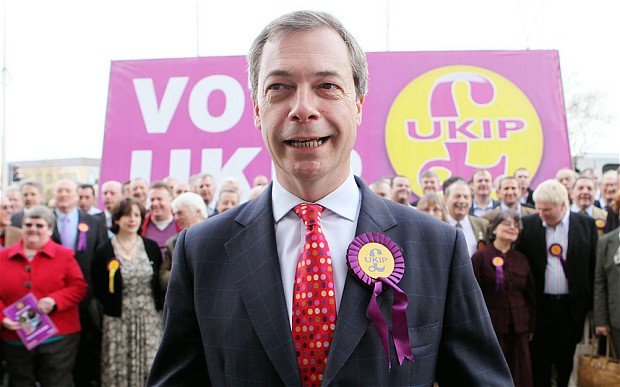 Nigel Farage's UKIP party is still riddled with racism… despite his claim of a crackdown.
A Sunday Mirror investigation has discovered sickening rants on the Facebook pages of party officials. Details of their vitriol emerged only days after Eric Kitson quit as a councillor in Stourbridge, Worcs, after we exposed his internet slurs against Muslims and Jews.
Last month Farage claimed "a huge amount of time and money" had been spent researching the backgrounds of council candidates. He said: "Our membership is up nearly 50 per cent, and inevitably we are going to have one or two teething problems."
But today we can reveal his members' latest hate-fuelled ­postings.
Ukip's Chris Pain, leader of the opposition at Lincs Council and the party's East Midlands regional chairman, wrote: "Have you noticed that if you ­rearrange the letters in 'illegal ­immigrants', and add just a few more letters, it spells, 'Go home you free-loading, benefit-grabbing, resource-sucking, baby-making, non-English-speaking ********* and take those other hairy-faced, sandal-wearing, bomb-making, camel-riding, goat-********, raghead ******** with you.'"
Peter Entwistle, party chairman in Bury, Greater Manchester, labelled President Barack Obama a Muslim, writing: "I bet he's a closet 'Imam' as well! If I ever see him on a Greyhound bus wearing a rucksack, I'm getting off!!"
The party's deputy chairman in Scotland, Misty Thackeray, "liked" a Facebook group claiming "paedophilia is part of Islamic tradition". He also praised far-right Dutch politician Geert Wilders, a self-­confessed "hater of Islam". Recommending Mr Wilders' new book, he said: "Geert is great …(peace be upon him.. lol) ..!"
Meanwhile Tiggs Keywood-­Wainwright, a Ukip councillor in Boston, Lincs, complained about mosques being built in "quintessentially English" Cambridge. "Is nowhere sacred for the Brits in Britain any more?" she wrote. "Bottom line is we have too many muslims in this country!"
See also "UKIP face fresh right-wing row", Sunday Herald, 19 May 2013
Update:  See "UKIP councillor for Burgh and Wainfleet defends name against 'racist rant' allegations", Skegness Standard, 20 May 2013
Cf. Nick Lowles, "What a load of tosh", Hope Not Hate, 20 May 2013
Update 2:  See "Doubts expressed over UKIP councillor's 'racist rant' hacking defence", Skegness Standard, 21 May 2013
Update 3:  See also "Exposure of more racists leaves party Ukippered", EDL News, 20 May 2013
EDL News points out that Peter Entwistle was responsible for inviting former BNP activist Andrew Eccles to stand as a UKIP candidate in last year's Bury council elections, in breach of UKIP's ban on ex-BNP members joining the party. They also draw attention to evidence that Chris Pain has been a supporter of the now defunct British Freedom party, whose chairman is/was EDL co-leader Kevin Carroll.