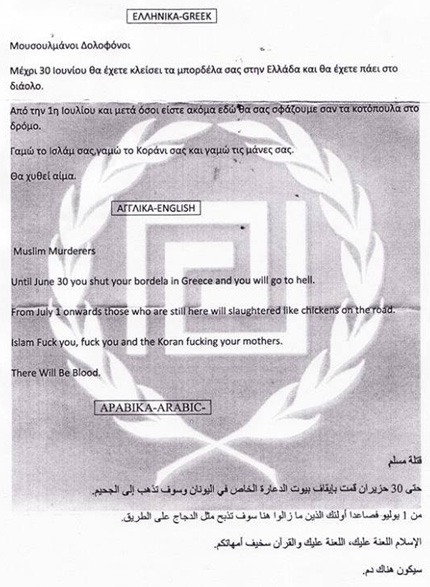 The Muslim Association of Greece (MAG) said that it has received a threatening note giving all Muslims, Greeks and foreigners, one month's time to evacuate the country or be "slaughtered like chickens," according to a statement released by the association on May 18.
The note, published on the association's webpage, is written in Greek, English and Arabic and the Golden Dawn emblem is printed on the paper, although there is no claim of responsibility from the neo-Nazi group that has 18 seats in Parliament, wants all immigrants out of Greece and has been accused of assaults on them, which the party has denied.
The note is printed over a symbol of Golden Dawn which has an openly anti-immigrant, anti-Muslim, anti-gay, anti-Semitic, anti-foreigner, ultra-religious jingoistic platform and says it wants a Greece populated only by Greeks with 100 percent Greek blood from both parents.
The anonymous author uses vulgar language against Muslims, threatening that if they do not leave the country that, "There will be blood." The association stressed that the note, which was posted via a central post office in Athens, is addressed to Muslims and not to immigrants, "and this indicates that the religious hatred against humans is undisguised."
The board of the Muslim Association calls on the Greek State "to make certain that all citizens are enjoying equal law and that we are not prey in every asymmetric threat." It comes as the Greek government is proceeding to renovate a building to provide Muslims in Athens with the country's first official mosque.
The association has asked authorities to investigate the letter sent to its head offices in Neos Cosmos, central Athens, threatening violence against Muslims in Greece if they "don't shut down their brothels and go to hell" by June 30. It adds that, "from July 1 onwards those who are still here will be slaughtered like chickens on the road."
MAG called on authorities to "ensure that all citizens can enjoy equality in the eyes of the law and that we are not prey to every asymmetric threat."
Below is the content of the note, expurgated.
Muslim Murderers
Until June 30 you shut your bordela in Greece and you will go to hell.
From July 1 onwards those who are still here will [be] slaughtered like chickens on the road.
Islam F*** you, f*** you and the Koran f***ing your mothers.
There will be blood.