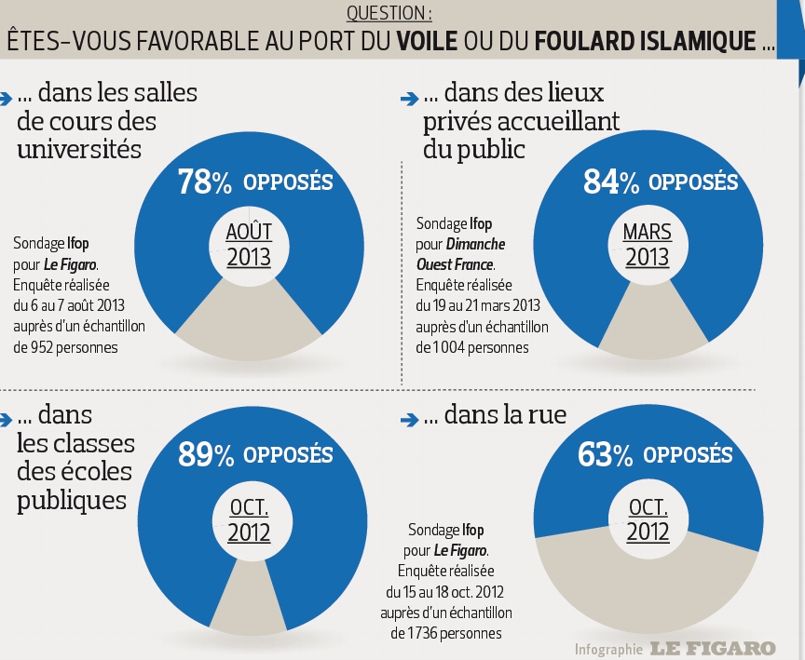 Le Figaro reports that an Ifop poll it commissioned has found that almost eight out of ten people in France are opposed to the wearing of the headscarf or veil in university classrooms. It quotes Jerome Fourquet of Ifop as stating that this represents a similar level of opposition to the hijab that has been found in previous polls on this issue.
In October 2012, during the controversy over the publication of the Mohammed cartoons in Charlie Hebdo, an Ifop poll found that 89% of respondents were opposed to the hijab in state schools, while 63% were opposed to it being worn in the street. In March this year, when a court found in favour of a Baby Loup employee fired for wearing a headscarf, 84% of respondents surveyed by Ifop said they opposed the headscarf in private establishments that are open to the public.
Le Figaro points out that anti-hijab sentiment is found across the political spectrum – while 95% of Front National supporters and 91% of UNP supporters are against the hijab in universities, so are nearly 70% of Parti Socialiste supporters – and politicians of both left and right have been ready to promote anti-hijab policies.
See also Pierre Tevanian, "Le populisme contre le peuple", Les Mots Sont Importants, 9 August 2013
Reproducing an article originally published in 2003, during the debate over the proposal to ban the headscarf in state schools, Tevanian points out that poll figures are often manipulated and that being against the hijab is not necessarily the same as supporting a state ban.