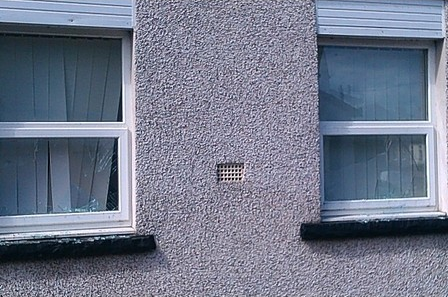 Four windows have been smashed overnight at a mosque in a village near Neath, leaving broken glass along a busy walkway. The religious building, at St Anne's Terrace, Tonna, was damaged in the early hours of this morning.
Police have been on the scene in the village throughout the morning, questioning neighbours and passers by. A spokesman for South Wales Police confirmed officers were investigating a criminal damage incident at the site, which occurred at 1.10am. "Enquires are ongoing at this time," said a spokesman.
Anyone with any information regarding the incident is asked to contact South Wales Police on 101 quoting incident number 103 of 10 August 2013.
South Wales Evening Post, 10 August 2013
Update:  See "Neath mosque attack is condemned", South Wales Evening Post, 12 August 2013
Update 2:  See "'I don't have words to condemn this mindless, thuggish act", South Wales Evening Post, 15 August 2013
And "Conservation project team to donate funds to damaged Tonna Mosque", South Wales Evening Post, 16 August 2013