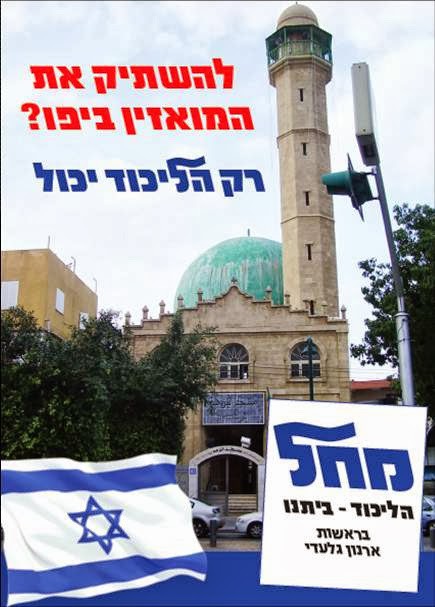 The Central Election Committee on Thursday banned campaign ads used by Likud candidates in the Carmiel and Tel Aviv municipal elections, saying they were racist and offensive.
Central Election Committee Chairman Supreme Court Justice Salim Joubran ordered the candidates to stop the campaigns immediately, deeming them "racist and almost certain to hurt the feelings of Arab Israelis and disrupt public order."
Likud campaign ads in Jaffa [see illustration] said "Silence the Muezzin in Jaffa? Only the Likud can." Another ad showed a picture of Jaffa with the slogan "Returning Jaffa to Israel."
In Carmiel Likud ran a campaign against building a fictitious mosque. As part of the campaign, numerous residents received a phone call from a man with an Arab accent who introduced himself as "Nabil" and invited them to a cornerstone laying ceremony for a mosque in the town. The Likud's campaign jingle played in the background.
MK Omer Bar-Lev (Labor) petitioned the committee and Interior Minister Gideon Sa'ar to ban parties running in Jerusalem, Carmiel, Tel Aviv-Jaffa and Upper Nazareth. Joubran, however, merely ordered that the Likud candidates in Carmiel and Tel Aviv-Jaffa not use the offensive advertising material.
Joubran's decision to ban the advertising campaign in two of the races was made despite Attorney General Yehuda Weinstein's position that the election committee had no authority over online and street ads. Joubran's decision states that the committee chairman is authorized to disqualify racist and inflammatory election campaigns regardless of how it is conveyed.
"As a member of Knesset in the State of Israel I couldn't stand by while lists [in the municipal elections], even that of the ruling party, trampled the fragile coexistence in Israel," Bar-Lev said yesterday.
Bar-Lev said he expects Prime Minister Benjamin Netanyahu and Likud ministers to condemn the campaigns and withdraw their support for the candidates.
Cf. "Judge bans Likud ad for offending Muslims", Arutz Sheva, 18 October 2013
See also Ali Abunimah, "Israel's Likud hopes to complete the ethnic cleansing of Jaffa", Electronic Intifada, 9 October 2013