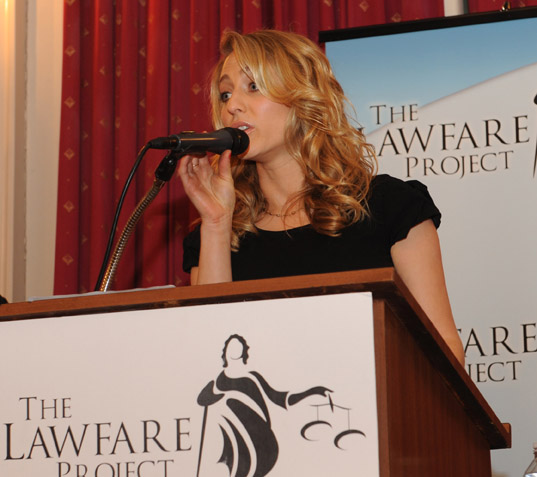 An invitation to an American lawyer who specialises in fighting Western lawsuits by Islamic extremists has been withdrawn at 48 hours' notice by Leeds University Jewish Society over fears that she is "too controversial".
New York-based Brooke Goldstein, director of the Lawfare Project, has been touring Britain this week with UK Lawyers for Israel, speaking about the ways Arab dictatorships and Islamist leaders use "lawfare" to sue those who publish articles against radical Islam.
Students were said to be concerned about her association with right-wing Dutch politician Geert Wilders, whom she gave legal advice after he was sued for anti-Muslim remarks.
Ms Goldstein said the students were "trying to prevent me from speaking about how we defend their rights, as someone who advocates on their behalf. I think it's disgraceful, it's Orwellian."
Zionist Federation co-vice-chair Jonathan Hoffman said: "Just as Benny Morris was cancelled by Cambridge Israel Society in Feb 2010, we witness spineless Jewish students crumbling in the face of false charges of Islamophobia."
Jewish Chronicle, 15 March 2012
"False charges of Islamophobia"? The Lawfare Project website happily links to Gates of Vienna, the notorious EDL-supporting" counterjihad" blog that helped to inspire Anders Breivik.
Update:  An editorial in the JC (presumably written by Stephen Pollard) states:
The behaviour of Leeds University JSoc in withdrawing its invitation to the eminent 'lawfare' advocate Brooke Goldstein is not merely spineless. It is reprehensible. Ms Goldstein devotes her professional life to fighting Islamists and Israel's enemies. For sheer craven stupidity it would be difficult to beat Leeds JSoc in deciding that she is not fit to address them because she has fought for free speech even for those whose views may sometimes be controversial. The students responsible for withdrawing her invitation should be ashamed.