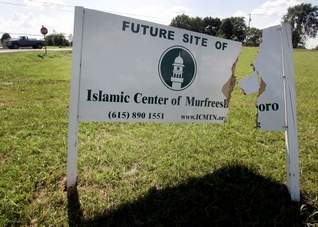 A Rutherford County judge decided to uphold his earlier decision that the Islamic Center of Murfreesboro has a right, by law, to build a bigger place of worship.
"Those who are adherents to Islam are entitled to pursue their worship in the United States just as are those who are adherents to more universally established faiths (in our community)," ruled Chancellor Robert Corlew III.
Opponents of the mosque had asked Corlew to reconsider the decision he made in May, which was that the 17 plaintiffs suing Rutherford County government can only challenge whether an open meeting violation occurred over the mosque's approval.
No trial has been scheduled on whether the county failed to provide sufficient public notice before its Regional Planning Commission met May 24, 2010, to vote on the Islamic center's plans to construct a 52,960-square-foot community center with a mosque on Veals Road.
"We have a duty equally to treat those whose religious beliefs are similar to the majority beliefs and to those whose beliefs are very different from the majority," Corlew wrote. "If the zoning laws are too favorable to those seeking to build places of worship, then citizens should prevail upon their elected representatives to change those ordinances, but until they do the Court must apply those laws equally to Protestant Christians, Roman Catholics, Muslims, Buddhists and others."
The Tennessean, 31 August 2011
See also "Breaking bread (not signs) in Murfreesboro this Ramadan", Daily News Journal, 31 August 2011