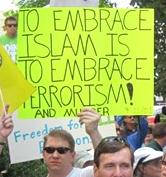 A judge has ruled that construction of a new mosque in Rutherford County does not harm the residents who sued the county to stop it. The judge did allow plaintiffs to pursue claims the county violated an open meetings law in approving the site plan for the mosque.
Plaintiffs' attorney Joe Brandon Jr. had argued that the mosque violated his clients' constitutional rights, claiming that the Islamic Center of Murfreesboro's members were compelled by their religion to subdue non-Muslims.
In a ruling issued Tuesday, Chancellor Robert Corlew dismissed most of the complaints raised by the 17 plaintiffs, except for claims that the county violated the state Open Meetings Act by not providing proper notice for the meeting at which the mosque site plan was approved. The court has not set a date to hear the open meetings complaint.
"Our families and children have gone through a lot," said the mosque's spiritual leader, Imam Ossama M. Bahloul. "I think we can all agree that we should concentrate on common goals, and we've tried to be friends with everyone, even with those opposed to the project. It's obvious this Muslim community did not harm anyone."
Design plans for the mosque are being finalized, and building permits are being sought, Islamic Center spokesman Saleh Sbenaty said.
See also "Mosque foes dealt setback", Daily News Journal, 20 May 2011
And "Fighting mosques in the name of freedom", Los Angeles Times, 19 May 2011