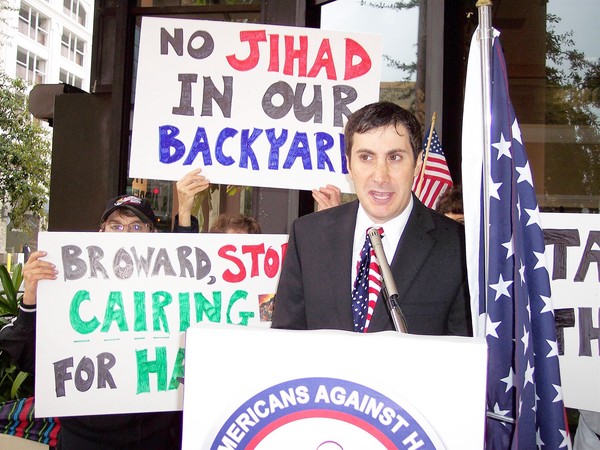 A small group of demonstrators led by Americans Against Hate Chairman Joe Kaufman last Friday accused Broward County and the Town of Davie of supporting an organization with ties to Islamic terrorists.
A street sign in Davie sparked the anger of the demonstrators who protested in front of the Broward County Governmental Center in Fort Lauderdale on a rainy Friday afternoon.
The sign, at the southwest corner of College Avenue and Nova Drive, credits the Miami office of the Council on American Islamic Relations (CAIR-FL) for its participation in a Broward County program to clear litter from an "adopted" street.
"Too many people have been quiet about their concerns over Muslim extremism," said Rabbi Andrew Jacobs of Ramat Shalom synagogue in Plantation. Stopping it must begin locally, in Broward County, he said.
Muhammad Malik, executive director of CAIR-Florida's Miami office, said the organization wanted to bring out people to pick up litter from the street, like any other group.
South Florida Sun Sentinel, 22 December 2009
See also Mondoweiss and LoonWatch