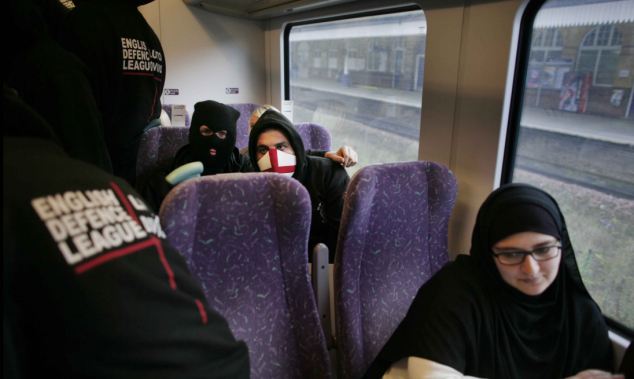 On Platform One at Bolton station a mob of around 100 men punch the air in unison. The chant goes up: "Muslim bombers, off our streets, Muslim bombers off our streets…"
Their voices echo loudly and more men suddenly appear; startled passengers move aside. The group march forward waving St George Cross flags and holding up placards. The throng of men around me applaud. A train heading for Glasgow draws up on the opposite platform and the men turn as one, bursting into song: "Engelaand, Engelaand, Engelaand."
Some of the men hide behind balaclavas, others wear black hoodies. A few speak on mobile phones, their hands pressed against their ears to block out the cacophony.
"It's already kicking off in Manchester. This could be tasty," shouts one. These are some of the most violent football hooligans in Britain and today they have joined together in an unprecedented show of strength. Standing shoulder to shoulder are notorious gangs – or "firms" as they are known – such as Cardiff City's Soul Crew, Bolton Wanderers' Cuckoo Boys and Luton Town's Men In Gear.
The gathering is remarkable, as on a match day these men would be fighting each other. But it is politics that has drawn them together. They are headed for Manchester to support a march by the burgeoning English Defence League.