We have previously covered the controversy over plans for a new mosque in Worcester Park. These plans resulted in a mass petition against the development, interventions by the National Front and English Defence League, and the daubing of a swastika on the door of the building, before the application for planning permission was finally rejected by Sutton Council last month.
Yesterday the Surrey Comet reported that the Ismaili community are hoping to convert a derelict pub in the same area into a community centre (further details can be found at the Worcester Park Blog). Predictably, the proposal has unleashed the usual wave of anti-Muslim hatred and bigotry.
Here is a post from the "Save the Worcester Park Tavern" Facebook page, warning that the planned conversion of the disused building is an example of how "our British culture is being erroded" by Islam.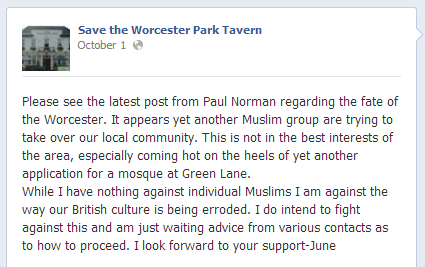 Here are some excerpts from the discussion that followed. As you can see, the thread concludes with opponents of the pub conversion declaring their support for the English Defence League, the neo-Nazi band Skrewdriver and its lead singer Ian Stuart, the twentieth anniversary of whose death has recently been commemorated by fascists and white supremacists.