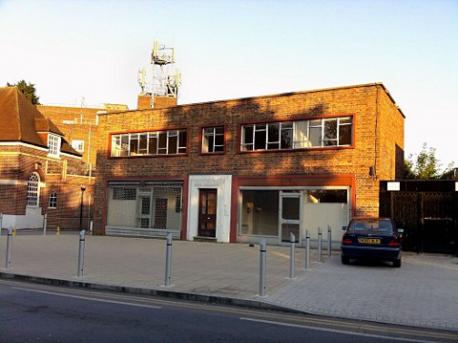 A plan to open a 'car-free' mosque in Worcester Park was rejected after councillors dismissed the idea no-one would drive to it. Sutton Council refused planning permission for a mosque to be opened in the old Bank Chambers building in Green Lane near the junction with Green Lane at a heated meeting last night.
The scheme was rejected after councillors on the development control committee refused to accept the developers claims that no-one would drive to the mosque and said plans would exacerbate and already-existing problem with traffic in the area. It is the second time an application to convert the building, which has been abandoned for more than four years, has gone before the council.
The first application was thrown out on the grounds it would cause traffic chaos with no measures to stop up to 140 people coming in cars with no on-site parking in December last year. The more recent application reduced the capacity of the building to 95 and came with assurances from Cunnane Town Planners, contracted on behalf of the applicant, that no-one would drive to the mosque as all its catchment live within 700m of the site.
But the argument was dismissed by Councillor Tony Shields who called the presentation from Cunnane "tosh" and added: "You've used guesswork to come to the conclusion you're looking for. It will be gridlock. It doesn't matter whether it's a mosque, pilates or a bingo hall – that building is not suitable for public assembly."
The proposed mosque would have served the Ahle Sunnat Wal Jama'at branch of Islam. The nearest mosque for many worshippers in the area is in Kingston and the chairman of the Kingston Mosque and Muslim Association, Javed Rafiq, said more mosques need to be opened in the area to ease the pressure on the East Road mosque. He said:
"If the surrounding areas do not have mosques or places of worship then it puts a strain on us. We already have parking issues that we have to deal with. The plans were put forward by people living in the area. 700m is definitely walking distance, I would have thought anyone going from Worcester Park would walk.
"I think there is a climate of Islamophobia and it's quite difficult to explain to people what having a mosque in their area would mean. They are places of worship but they're also about promoting social cohesion and citizenship."
An appeal against the rejection of the first application is set to be heard in November.
Kingston Guardian, 26 September 2013
The National Front has demonstrated against the proposed mosque and the English Defence League claimed to have had a hand in the rejection of the first plan. In June a swastika was daubed on the building.