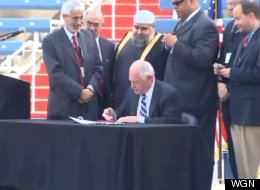 Gov. Pat Quinn celebrated the end of the Muslim holy month of Ramadan at a ceremony that drew 15,000 people to Toyota Park on Sunday morning in the southwest suburb of Bridgeview.
The governor used the occasion to sign a bill that will allow university students who have religious holiday conflicts with tests or assignments to ask for and receive alternate assignments.
Gov. Quinn also decried recent attacks against local Muslims, citing a shooting at a Morton Grove mosque, an attack on an Islamic school in Lombard and the desecration of a grave in an Evergreen Park cemetery.
"These are un-American acts," he said. "The people of Illinois, all 13 million, abhor anyone who would commit these serious acts of violence as a violation of our constitution."
The governor called religious freedom "The most American and fundamental freedom that we have in our country," and said "The First Amendment of our constitution says that everyone, everyone has the right to practice their religion and their faith without fear of intimidation."
The celebration of the end of Ramadan, a month of fasting, prayer and reflection, was organized by the Bridgeview Mosque, led by Imam Jamal Said.