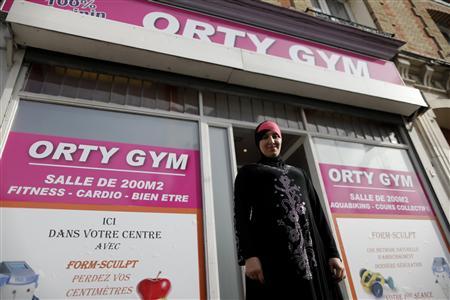 LE RAINCY, France — A pink and orange all-women's gym has become an unlikely focus of a very French row over Muslim integration, secularism and what some view as blatant populism in the run-up to France's municipal elections.
The gym, which opened last month in the up-market Paris suburb of Le Raincy, is owned by a French Muslim couple who say their religion and appearance – she wears a headscarf and he a long beard – are the reason the mayor wants to shut them down.
The squabble has erupted five months before conservative mayor Eric Raoult, who says safety is his only concern, seeks re-election in nationwide municipal polls in which the anti-immigrant National Front is expected to gain ground.
"'I don't want any veiled women in my town,' he told us," said gym manager Nadia El Gendouli, who sports a piercing in her nose and plunging neckline. "'You're a fundamentalist!' he told me."
At the town hall on Thursday, Raoult denied the allegation that he did not want women wearing Muslim veils in Le Raincy. "These are fundamentalists, they lie!" he shouted. "They consider because they're Muslims they're victims and they consider they have more rights," he said.
Local security officials said on Friday the gym met all safety standards. That meant it could stay open, but it did not guarantee it would now be out of the political spotlight.
The Orty Gym – Orty means "my sisters" in Arabic – is a 200 square-meter space with pink work-out equipment, freshly-painted fuchsia and orange walls and a large room where classes such as Hip Hop, Zumba, Stretching and Step are offered.
Some of the 70 women exercising in the room cover their hair with a headscarf but many do not as all races and religions are welcome, said Lynda Ellabou, who owns the gym with her husband.
Ellabou, wearing a fashionable pink and black headscarf, said their problems began in June after Raoult realised the couple planning to open the gym on a commercial strip on the periphery of the suburb of 14,000 residents were Muslim.
"When he saw my (bearded) husband he had a shock. 'You've rented a place where?' he asked us," Ellabou recalled. "'You're going to put a veiled woman at the reception desk too?'"
"In the end he made us understand it wasn't going to be possible to open," she said, adding Raoult later objected to the gym's lack of parking and steps leading to the emergency exit.
The issue of secularism arose when a Muslim website said the gym had a prayer room in the back. Ellabou said the page was not theirs and the report was wrong, as there is no such room.
Raoult told Reuters at his office that fire hazards, not racism, were the reason for his opposition to the gym. "Whether it's Jews, Catholics, Arabs, it's all the same. If it's not according to the law they'll be closed," he said. "Muslims need to know they have to respect the law."
One resident who came to the gym to offer support to the couple said such comments played well in Le Raincy, where ageing residents worry about changing demographics in an area that is close to the tough run-down suburbs of northern Paris. "There are people here in town who vote for him precisely because he says things like that," said the resident, Celine.
One gym employee, Lynda, who also wears a headscarf, said: "They hide behind 'human rights' here in France, but they're racist. We're considered foreigners."