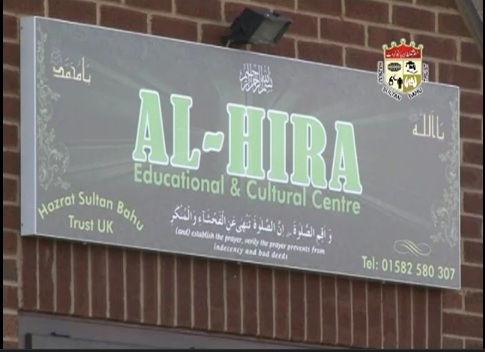 A would-be arsonist who was attempting to set fire to a mosque in Beechwood Road was disrupted by a cleaner who was inside the building.
CCTV footage from Al Hira Education Centre shows a man pouring engine oil on the ground around the building at about 1am this morning. He is then seen moving wheelie bins towards an open window, before he throws an aerosol can through the window.
Fortunately, the cleaner who was inside the mosque at the time heard a noise and knocked on the window to see who was there. He turned on the lights and the man fled the scene, leaving behind the petrol can and oil in bottles.
Al Hira head of administration Dawood Masood said: "This is a very serious incident, it could have caused the death of someone because there was a man in the building at the time and who knows what might have happened if he had managed to put stuff through the window."
The oil can was discovered at 7.17am this morning and police were called to the scene. Minister of Religion Professor Masood Akhtar Hazarvi said the police have taken the oil can and aerosol away for forensic testing.
The mosque, which has been in Beechwood Road for about five years, has 16 CCTV cameras which they installed two years ago. The CCTV footage from this morning, seen by the Luton News, clearly shows the face of the male perpetrator.
Mr Masood said: "It was a shock for us. Why would someone do this to a community organisation? We look after our neighbours a lot. If they need anything we help them. The community is just shocked, they don't know what to do. We are very peaceful and united in this area. We have community cohesion."
Mr Masood said members of the mosque are concerned for other mosques in Luton and are urging them to increase their security. He said: "We don't want to cause another big thing, we don't want to see other mosques in Luton targeted. This hasn't happened here before, it's the first incident we've had at our mosque."
He said they are grateful to the police for their quick response and are hopeful the perpetrator will be found.
A Beds Police spokesperson said: "Police received a call from a member of the public at 7.17am reporting the petrol can. It is believed that a man was seen acting suspiciously outside the mosque at 1.15am today."
Call Det Con Gayle Cotton on 01582 394317 with information.