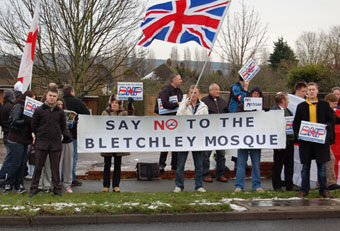 A pig's head was thrown on to the roof of a disused pub which is due to be turned into a mosque.
A video has been posted on the YouTube website, in which a shot of a dismembered pig is followed by footage of two men clearly throwing something on top of The Plough, a former rock pub on Manor Road in Bletchley.
And police have confirmed they are treating it as a religiously motivated hate crime after they discovered some "pork products" at 11.40am on Friday, June 24.
The pub is due to be converted into a Muslim place of worship after the plan received permission on Thursday, April 14, and has already been the subject of vandalism – there are also reports of this type of incident happening before.
The application, made as a current mosque on Duncombe Street is becoming too small for the community, has already attracted protests from the British National Party, and even prompted right wing group England is Ours to invite American pastor Terry Jones, who arranged a Koran burning.
MK NEWS tried speaking to members of the Muslim community in Bletchley. One resident, who did not wish to be named, said: "The community doesn't want to comment because they don't want to give the people who did this the publicity."
Thames Valley Police is now investigating the incident. Chief Inspector Ed Mclean said: "We are treating this incident as being a religiously motivated hate crime and officers are working closely with the local community to identify those responsible. This type of religiously motivated hate crime is unacceptable and will not be tolerated in Milton Keynes.
"Officers did attend the mosque earlier in the morning, at about 8.20am, after a member of the public reported some men acting suspiciously. Officers conducted an area search but were unable able to locate any offenders. I would appeal to anyone who saw any suspicious activity in the area between 8am and 11.30am to contact police urgently."
Anyone with any information should contact 0845 8 505 505, or call Crimestoppers, anonymously, on 0800 555 111.
The plan for the new mosque has been the subject of protests by the British National Party (see here, here, here and here) – a campaign that was hailed by Nick Griffin as an example of the "increased militancy" that he promised from the BNP.