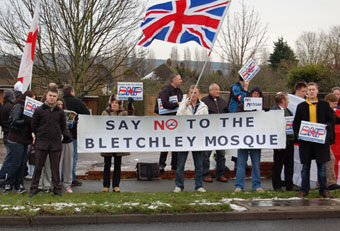 The British National Party will become more militant in physically defending British troops against Islamic militant abuse and against mosque-building programs, party leader Nick Griffin has announced.
Speaking to a 120-strong audience attending a black tie dinner to launch the party's 2010 conference in the East Midlands, Mr Griffin said that in future, the party would start acting as well as talking about protecting Britain.
"We are going to start attending homecoming parades of British troops, and when the Islamic militants abuse our troops and threaten them, we are going to physically stand in their way," Mr Griffin said to thunderous applause from the crowd. He also said that the party would increasingly start demonstrations against mosque-building programmes in Britain, using the recent demonstration organised by the party's branch in Milton Keynes as an example.
BNP news report, 11 December 2010
Obviously Griffin is worried that his party is being outbid by the EDL when it comes to physically agressive Islamophobia. Does this perhaps signal a partial turn away from the BNP's "suits not boots" strategy towards more traditional fascist street politics?
So far, it must be said, the BNP's renewed anti-mosque agitation has not been an unalloyed success. Griffin refers to the Milton Keynes branch's campaign against a proposed mosque in Bletchley. He avoids mentioning that another recent protest, in the BNP's former stronghold of Barking & Dagenham, attracted just 11 people.