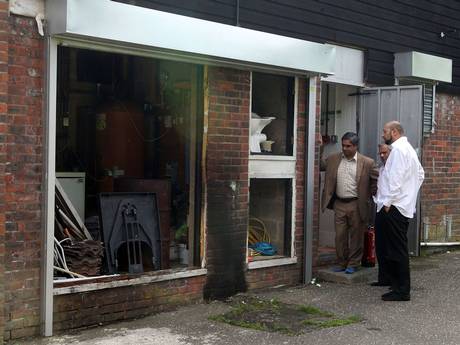 Four people arrested in connection with an arson attack on Harlow Islamic Centre back in August will have no further action taken against them.
All four were released on bail after their arrests but detectives today confirmed they were no longer suspects.
As a result of the development officers investigating the incident have renewed their appeal for information and are asking people to have another close look at CCTV images [see below] that were released in the wake of the attack.
Three men are seen to approach the building in Paringdon Road at 1.24am on Monday, August 26. One can be seen to be holding a drill while another is holding what police believe to be a canister of insulation foam.
People arriving for early morning prayers found insulation foam had been sprayed under all of the shutters which cover the doors and windows.
Chief Inspector Ed Wells, of Essex Police, said at the time: "It appears they [the culprits] have set fire to foam at one of the centre's doors which has damaged the wall, but thankfully not taken hold of the building."
Harlow MP Robert Halfon said that during his time as an MP he had never seen anything as bad in terms of racism.
"It has been my pleasure to be involved with the Islamic centre quite a bit in recent months," he said. " I spent an evening with the Muslim scouts which was really fun and I was there for the breaking of the fast for Ramadan.
"There are some people who live in the undergrowth and behave like vermin and they come out at night and do these kinds of terrible things. I have no other words to describe them but as scum of the earth.
Detectives say they are determined to find the people responsible and have urged anyone with information to contact them at Harlow CID on 101 or anonymously via Crimestoppers on 0800 555111.