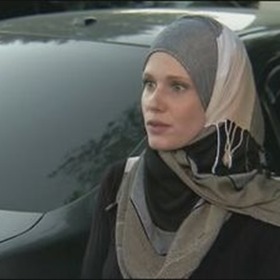 POINCIANA, Fla. — Florida deputies are working to track down a driver who tried to run a woman and her two young children off the road in broad daylight.
Rose, who only wanted to be identified by her first name, said the man tried to run her off the road in Poinciana, Fla., because of her hijab, a headscarf worn by Muslim women.
"When he notices me and he registers, you know, I'm covered, I'm obviously not like everyone else, he became really, really angry," Rose said.
Rose was headed to her Poinciana home last week with her 1-year-old and 4-year-old kids in the car. That's when she claims a man in a pickup truck tried to run them off the road.
"He actually swerved his car towards mine. I had to swerve off the road and into the grass," Rose said. It happened two more times and caused damage to her car.
She said that wasn't the worst part. "At this point he grabs a red flannel shirt from his passenger side seat, he wraps it on his head and he starts moving his head from side-to-side obviously to mock and imitate my head scarf," Rose said.
Rose, who became Muslim in 2002, was on the phone with a dispatcher. "All the dispatcher is telling me is the police are en route. The police are en route! The police are en route! And I'm screaming to her, help me!" Rose said.
A deputy was sent to the scene and Rose filed a report.
She said the man was driving a black pickup truck with a rusted roof and a tool box in the back with the word 'Delta' on it. She hopes those details help track him down. The sheriff's office said it has received reliable information about the vehicle and detectives will follow up in the morning.
"If it was anyone else do you really think they really would've done that? I personally don't," Rose said.
See also "CAIR-FL seeks public's help after road-rage incident targeting Muslim Mom", CAIR press release, 30 October 2013