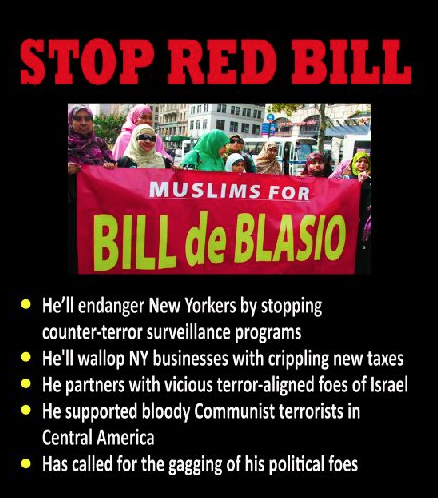 It seems that Pamela Geller's attempt to whip up hysteria among New Yorkers over the threat posed by Bill de Blasio's mayoral candidacy isn't going very well. She complains that at her press conference yesterday "there was no media present, with the exception of Jennifer Fermino from the NY Daily News".
And Fermino evidently wasn't too impressed with what she heard. Her report refers to Geller as an "Islam hater", "anti-Islam blogger" and "pro-Israel flamethrower" – entirely accurate descriptions which Geller denounces as an attempt to "defame and smear" her.
Fermino also reproduces the "Stop Red Bill" ad that Geller hopes to post in ten New York subway stations next week. A de Blasio spokeswoman is quoted as describing Geller's ad as "hateful and offensive".
See also New York Magazine, 25 October 2013
The days of the "Ground Zero mosque" campaign, when Geller regularly received large-scale media coverage of her crazed and bigoted views, are now long gone.