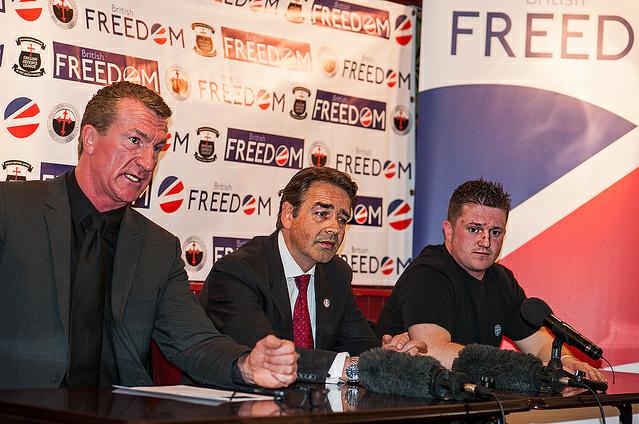 British Freedom (as the British Freedom Party has been renamed, because BFP is "too closely sounding to BNP") reports that its executive council has held a meeting with the English Defence League leaders to discuss future political plans.
BF chairman Paul Weston will be attending an "SIOE (Stop the Islamisation of America)" event in New York on 11 September along with newly appointed vice-chairmen Stephen Lennon and Kevin Carroll. Presumably this is the SION conference to "fight blasphemy laws under the Sharia Islamic supremacist war on free speech" announced by Pamela Geller a couple of months ago, at which "English politician and freedom fighter Paul Weston" is an advertised speaker. According to the BF report: "This will be a high-profile visit with excellent opportunities to publicise British Freedom internationally."
So it would appear that the on-off relationship between Geller/Spencer and the EDL is on again. Whether US immigration officials will allow Lennon to attend the SION event is another matter, of course. When he arrived at JFK airport on his way to Geller and Spencer's "Ground Zero mosque" protest in September 2010 he was refused entry and sent back to the UK.
Apparently the international counterjihadist roadshow will also be paying a visit to Britain: "It was agreed that British Freedom in association with the EDL should organise a major international conference next year with top speakers from the anti-jihad/ freedom movement. Date, speakers and UK venue to be decided." Now there's something to look forward to.
Another international jaunt is also proposed, this time to Sweden: "Party leaders are planning to go to Stockholm to deliver a public apology on behalf of Luton for the fact that the Stockholm bomber was radicalised in the town."
The reference here is to Taimur Abdulwahab al-Abdaly, who killed himself in a failed suicide attack in the Swedish capital in December 2010. There is no indication that his residence in Luton played any part in his turn to violent extremism. When Abdaly turned up at the Luton Islamic Centre in 2007 and tried to win support for his (at that point still non-violent) extremist views he was confronted and forced out. So what Luton has to apologise for is unclear.
Domestic plans for BF include the following: "In order to raise the party's public profile, British Freedom representatives will attend EDL demos and other public events, using banners and placards to create a highly visible presence, and leaflets and other materials to promote the party."
I can't see that going down too well with some of the EDL members. The Demos study Inside the EDL found that 34% of them intended to vote for the BNP and 14% for UKIP. Although that survey was conducted before the public announcement of the lash-up between the EDL leadership and the BFP, it seems unlikely that many EDL supporters have abandoned well-established parties like the BNP and UKIP and transferred their allegiance to an minuscule sect like British Freedom. They will likely resent EDL demonstrations being used to raise the profile of an obscure organisation they don't support.
Other political initiatives include: "British Freedom is to contest the Bedfordshire Policing and Crime Commissioner elections. We will stand a senior member of the party, to be announced very soon." Furthermore: "British Freedom will also be looking closely at parliamentary by-elections, with Paul W., Stephen L. and Kevin C. each ready and willing to contest a suitable seat." In addition, they hope to raise £1 million to fight the 2015 general election. As if.
It will be interesting to see which "senior member of the party" decides to stand for police commissioner in Bedfordshire. Stephen Lennon would seem to be the obvious choice as he can claim first hand knowledge of the problems of policing, having received a twelve-month prison sentence in 2005 for assaulting a police officer and resisting arrest. As for the plan to stand in parliamentary by-elections, I say bring it on. The humiliatingly low votes Weston, Lennon and Carroll can expect to receive will hopefully wreck their party long before it has a chance to contest the next general election.
Photo:  Carroll, Weston and Lennon at the EDL/British Freedom press conference in Luton on 5 May.