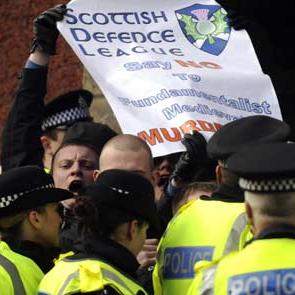 Dundee City Square could be turned into a scene of conflict if members of a far-right group are allowed to demonstrate there.
That was the claim made on Thursday during the city council's licensing committee as councillors considered a request by Dundee Trades Union Council, on behalf of Dundee Together, to allow their demonstration against racism and fascism to go ahead on September 1.
On the same day, around 150 members of the Scottish Defence League (SDL) are expected to gather in the city despite having been refused permission to hold a static demonstration in City Square earlier this year. The right-wing group is using the European Convention on Human Rights (ECHR) to exercise its freedom of expression and freedom of assembly.
Police have come under fire over their recent recommendation to place both groups in separate sections of City Square. They say it will make it easier to control possible crowd disorder.
Mike Arnott, a spokesman for Dundee Together, delivered a statement to councillors in which he made clear the proposal was unworkable. He called on the police to find an alternative venue for the SDL supporters.
He said: "The event we want to hold in the City Square is a celebration of Dundee's diversity. If you allow the SDL into the Square then this celebration will no longer take place. We cannot in good conscience have children and families positioned only a short distance away from chanting fascists. The SDL is a hate campaign against Muslims, let's make that clear."
Dundee Together wants to hold its demonstration in City Square from 10am to 3pm and include a music stage, children's art workshop and community stalls. It also plans to march from City Square, up Reform Street, round Albert Square and back down Reform Street.
Temporary Assistant Chief Constable Angela Wilson stressed the force was not against Dundee Together hosting its event in City Square but had a responsibility to protect the wider public. But Lord Provost Bob Duncan voiced concern over the likelihood of conflict if the parties were placed next to each other.
In relation to the Dundee Together event, he said: "This is a family event for the City Square and it's the sort of event that is suited to the City Square. Having the SDL there doesn't fit with what the City Square is for."
Licensing convener Stewart Hunter added: "It's a vibrant event that would be welcome in the City Square. I can't accept the police recommendation and I don't want the SDL in Dundee at all. But what I can do is to try and prevent them from using the City Square."
Councillors voted in favour of allowing Dundee Together to host its event but rejected the recommendations by Tayside Police to allow the SDL into City Square.
The decision brought cheers from members of the public but it remains unclear where the SDL will be guided if they come to the city.