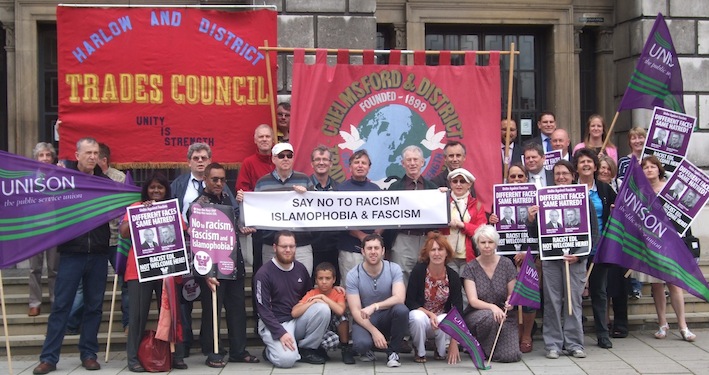 A far right demonstration is set to be opposed by members of unions, faith groups and political parties. A second English Defence League march is planned in Chelmsford for Saturday, but the group is set to come up against opposition.
The EDL will be in the city centre to make its feelings known on a planning application to rebuild the Muslim Shia Ithna Asheri Jamaat of Essex, which is behind the Royal Mail office, in Victoria Road.
But Chelmsford TUC has rallied supporters to march on the same day. Andrew Coburn, chairman of the Chelmsford branch, said: "We are pleased so many people and organisations from across the community have come out in support of this initiative."
Simon Burns, Chelmsford MP, has sent a letter backing the action of the group marching against the EDL. His letter is expected to praise the anti-EDL movement and say he is appalled at any attempt to inflame race relations in Chelmsford.
Chelmsford Weekly News, 17 August 2012
The counter-demonstration against the EDL will assemble at 11.30am at Tindal Square CM1 1LX and march through the town at 1pm, returning to Tindal Square for speeches.
Update:  See also "EDL member threatens violence ahead of Chelmsford demo", Blottr, 17 August 2012
The EDL member in question is one Mark Pringle, who posted this comment on Facebook: "I can't wait to beat another red wanker unconcious [sic], like I did in Brighton. Roll on Saturday." Followed by: "I reckon EDL should hold a contest, see how many reds we can kick fuck out of, and whoever does the most gets a prize."
These suggestions were happily endorsed by another EDL member, Jay White, who was earlier responsible for posting a link to a YouTube video of "Kick the Reds In", a song by the neo-Nazi band Whitelaw, on the EDL Essex Division's Facebook page.
Update 2:  And while we're on the subject of violent neo-Nazis, another EDL member who will be attending the Chelmsford demo is Colin Moore, a National Front admirer (and, you'll note, friend of Joanne Dickens) who posts threats against anti-fascists on his Facebook page.
But don't get the idea that our Colin is an uncritical admirer of Nazism. As he explained on Facebook a few months ago, it is his considered opinion that "hitler might of went a bit far".