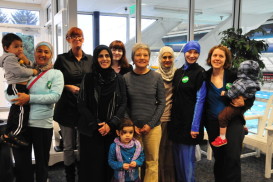 Concerned about backlash against a women-only swim program initiated by members of the Muslim community, People Acting Together in Howard members plan to take a stand at tonight's Columbia Association meeting. "We'll have some people there, so if there are negative comments, we'll be there to present the other side," Wendel Thompson, a member of Bethany United Methodist Church, said Monday.
In reading letters to the editor that have appeared in the Baltimore Sun, as well as comments made online at Columbia Patch and the Huffington Post, Thompson said he is concerned that much of the opposition is rooted in anti-Muslim sentiment.
Cynthia Marshall, the lead organizer for PATH, said she is disappointed by many of the comments she has seen about the program. "Clearly these are people who are deciding to be bigoted and will do what they can to attack Muslims," she said. "This not not only a Muslim issue, this is a woman issue, and the community came together to fill this need."
Thompson said Columbia is not the diverse community he'd like to see. "If anything, the backlash tells me how right we were to do this," he said. "We're working together as Christians and Muslims to do something for the community as a whole," he said. "The tension that's created maybe tells us we did something right."
Columbia Patch, 22 November 2011
---
For example of objections to the women-only sessions, see here and here. Needless to say, mad Pamela Geller, who reported the case under the headline "Stop the Islamization of America: Maryland public pools enforce Sharia-Muslim swim, segregated swimming", has being doing her best to stoke up hysteria over the issue.
Update:  See "Opposition to women-only swim program did not materialize", Columbia Patch, 23 November 2011
And "Women-only swimming a benefit not just to Muslims",Baltimore Sun, 23 November 2011