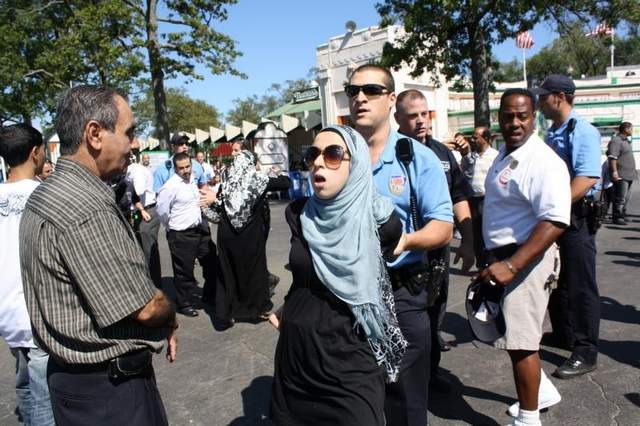 Fifteen Muslims on Tuesday won conditional dismissals of charges stemming from an amusement park disturbance that started when women were told they couldn't wear religious headscarves on some rides.
A Rye Town Court judge told the defendants their cases would be dropped if they stayed out of trouble for two months. Most had been charged only with disorderly conduct, but the charges ranged up to second-degree assault.
All the female defendants wore headscarves.
Some of the defendants said after the court session that they plan to file a civil rights lawsuit against Westchester County, alleging police brutality and racism in the disturbance. The county owns Playland Park in Rye, a national landmark, where the disturbance occurred.
Defense lawyer Lamis Deek said the defendants could have gone to trial and won acquittals, but trials would have been inconvenient because none of them live in Westchester. "It's unfortunately more convenient to accept this offer, not have to enter a plea of guilty, move on with their lives and pursue this matter in a civil courtroom," Deek said.
Lucian Chalfen, spokesman for the district attorney's office, declined to comment on why the dismissals were accepted. Deek suggested that prosecutors felt they couldn't win convictions. She said the dismissals "speak loudly to what they think really happened."
About 3,000 Muslims were at Playland on Aug. 30, celebrating the end of Islam's holy month of fasting, Ramadan. Officials say Playland bans baseball caps, eyeglasses and other headgear on several fast rides.
County officials said at a hearing in September that some Muslim women who were wearing religious scarves known as hijabs objected when told they couldn't go on certain rides. They said the county had made the policy clear to the trip organizer, the Muslim American Society of New York.
They said dissatisfied patrons were being given refunds when scuffles broke out within the group. Deek said Tuesday that it was just an argument between two Muslim women.
Police were called, five people were arrested, and things began to calm down until a flash mob, summoned by texting, gathered rapidly outside the park police station, said county police Commissioner George Longworth. The crowd became unruly and 10 more arrests followed.
Deek said the arrests were carried out with "a great deal of brutality," injuring several Muslims. "This is the result of stereotyping and racist ideologies and beliefs … toward Muslim communities, the idea that for some reason these Muslims would be more violent," she said.