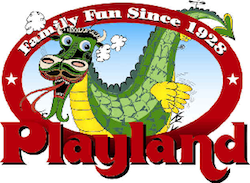 A New York amusement park was temporarily shut down Tuesday after a large-scale altercation erupted between Muslim patrons and park rangers over a disagreement on headgear rules.
Muslim women in a tour group at Rye Playland in Westchester County were reportedly denied access to several rides because they were wearing hijabs – their traditional headscarves, MyFoxNY reports.
"Our headgear policy is designed to protect the safety of patrons and safety is our first concern," said Deputy Parks Commissioner Peter Tartaglia. "This policy was repeatedly articulated to the tour operator, but unfortunately the message did not reach some of the members of his group."
The altercation began when park officials offered refunds and members of the Muslim group got in a scuffle, Tartaglia told The Journal News. Two park rangers were injured when they jumped in to break it up, he said, and were taken to local hospitals.
Dozens of police vehicles from nine agencies then rushed to the park, where officers arrested 15 people – mostly for disorderly conduct, authorities said. The disturbance involved around 30 to 40 people.
All other visitors were not allowed into the park between 4 and 6 p.m. ET, with exit ramps from I-95 closed as well.
The tour group – the Muslim American Society of New York – was at the park to celebrate Eid-ul-Fitr, an Islamic holiday that marks the end of Ramadan, MyFoxNY reports.
"Everybody got mad, everybody got upset," Amr Khater, a Brooklyn resident, told The Journal News. "It's our holiday. Why would you do this to us?" Khater said park rangers notified him of the headgear rules upon arrival.
The Journal News reports: "Lola Ali, 16, of Astoria said she witnessed a group of girls and women wearing hijabs go to park security to confront them about the headgear issue. She said the women were upset and yelling. She said the security officers started pushing them away and the girls stood their ground, at which point the security officers grabbed them, pushed them to the ground and handcuffed them. Men within the park saw this and tried to intervene, Ali said, and the situation went downhill from there. 'They were beating down the girls, then they started beating down the guys,' she said of the security officers."
See also the report at Patch.com, which adds: "A Yonkers woman not with group would not give her name, but said she saw a female park ranger hit one of the women in the group repeatedly with a baton. The eyewitness said that the woman said, as she lay on the ground, something about her scarf being her religion and the park ranger yelled 'I don't give **** about your culture'."