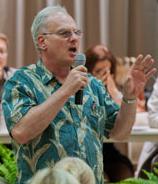 The Rossmoor–Los Alamitos branch of the California Federation of Republican Women Southern Division (RLA RWF) is concerned about the spread of Sharia law in the USA.
"The United States has always been a welcoming nation to those who legally enter and pledge allegiance to our flag and laws," the RLA RWF states in a recent announcement. "Yet, today there are many concerns about the Obama Administration introducing aspects of Sharia law into our legal system."
In order to alert their members to this worrying development, the RLA RWF have booked a representative of Brigitte Gabriel's Act! For America, one Steve Martel (pictured), who at their monthly meeting on 18 May will be giving a speech on the question "Sharia, Islamic law – Can it happen here?" which will "focus on the true history, doctrines and goals of Sharia-compliant Islamists". You can get an idea of the message Martel will be conveying here.
Not that the RLA RWF has anything against minority faith communities, you understand. "The Republican Party has members of all faiths and respects their religious beliefs," the club's president, Margene Walz, assures us. "This is why we want to dispel Sharia law myths and focus on the realities so our members and guests are better informed about Sharia law."
The RLA RWF notes that "America has always had conclaves of religious groups, such as Hassidic Jews and the Amish, who live with dress codes and religious laws that are unique to their community." However: "While the Hassidim and Amish do not have a desire to spread their religion or lifestyle – they just want to be left alone to practice their religious beliefs – followers of Sharia law appear to want to spread it to non-Muslim societies."
Those attending the event, at the Courtyard by Marriott hotel in Cypress, will have the opportunity to "network with community business professionals, members and guests" and enjoy a "delicious buffet brunch" before hearing Mr Martel's informed views about the threat posed by their Muslim neighbours.