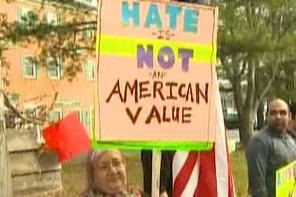 Months after a debate over controversial anti-Muslim billboards in some Metro stations erupted, the woman behind those ads appeared at an event in Annapolis.
And that controversy followed Pamela Geller to the event convened by the Maryland Conservative Action Network (MDCAN).
Protesters outside held signs with messages such as "Hate is Not an American Value."
The Maryland chapter of the Council on American-Islamic Relations (CAIR-MD) organized the multi-faith protest, calling Geller the "leader of a designated anti-Muslim hate group."
A statement on the Facebook page for CAIR-MD says, "MDCAN has a history of bigotry against religious, ethnic and sexual minorities. Unfortunately, instead of inviting legitimate conservative speakers, MDCAN has instead chosen speakers who are well-known bigots, conspiracy theorists…, anti-Muslim fanatics.
ABC7's Whitney Wild was there and interviewed Geller and some of the protesters.