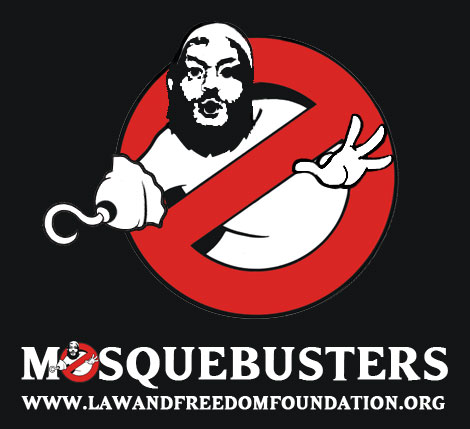 A self-styled "mosque buster", who boasts that he has blocked plans for 16 mosques across Britain, was once linked to the far-right English Defence League (EDL) and claims that Islam encourages paedophilia, sexual abuse and pimping.
Gavin Boby, a planning lawyer from Bristol, urges his followers to undermine planning applications for mosques by raising their opposition with councils.
Boby, 48, runs a planning consultancy but under the banner of the Law and Freedom Foundation he also provides a free legal service for those who oppose mosque developments. Through his foundation he claims to have stopped the construction of 16 out of 17 mosques across Britain.
Boby launched the service with a mock-up of the Ghostbusters logo – in which the ghost was replaced by Abu Hamza, the radical cleric – and posted vacancies for volunteers on the EDL website. He has written an online guide that shows "ordinary local citizens" how to make a legal case against mosques.
In the guide, reproduced last week on the far-right blog Gates of Vienna, Boby says: "Let councils know that they're on the hook for their decisions. Be relentless. Push."
He also suggests opposing a proposed Islamic community and welfare centre in Leeds on the grounds of "parking congestion", "disturbance" and "community relations". He advises emphasising that the proposed project will "cause unacceptable pollution" from traffic, is "not a community facility" because it is for "a speci­fic purpose" and is a hazard to local schoolchildren as it will "bring in outsiders with no connection to the area".
Although his advice is rooted in legal arguments, his motiva­tions are driven by an apparent ideological hatred of Islam. In a video interview on YouTube, Boby refers to recent sex abuse cases and claims mosques are used to instruct followers to commit acts of paedophilia, sexual abuse and pimping. "Islamic doctrine permits, encourages and to a certain extent mandates Muslim men to take non-Muslim women as slaves to be used for sex," he says, adding: "In order to stop the Islamic doctrine, which is the root of this problem, you have to prevent further mosques from being built."
Councils contacted by The Sunday Times have disputed claims that Boby has been instrumental in blocking the development of local mosques. Waltham Forest council, in northeast London, opposed the development of one mosque for traffic-related reasons, while an application for another had simply been withdrawn by the applicant.
Croydon council, in south London, said it had blocked the development of a proposed mosque because of issues relating to parking and plan­ning. It is understood that Muslim community leaders had played a leading role in stopping the mosque being developed, according to a senior council source.
The source said Boby, who had addressed the council chamber to express his opposi­tion to the development last year, was quickly dismissed after he attempted to attack Islamic doctrine.
Boby refused to comment despite numerous telephone calls and emails to him.
See also "'Mosque buster' claims he can stop 'tide of Islam' by giving free advice on how to block building plans for new places of worship", Mail Online, 13 January 2013