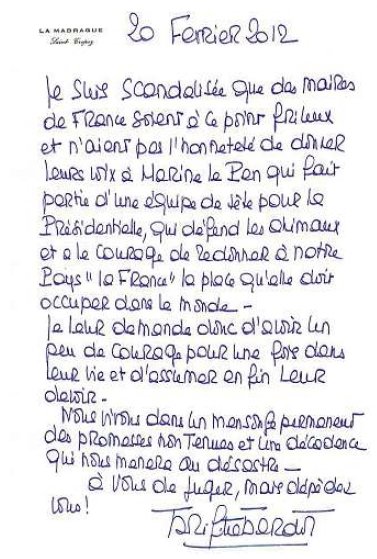 Screen legend Brigitte Bardot backed French far-right presidential candidate Marine Le Pen in a handwritten note published Wednesday in regional daily Nice-Matin.
The actress made an appeal to local elected officials to endorse the National Front leader so that she could gather the 500 signatures she will need to run in the two-round 2012 election two months away.
"I am scandalized that French mayors are so cold they don't have the honesty to back Marine Le Pen, who is a top candidate, defends animals and has the courage to lead our country, France, to its rightful spot in the world," it read.
The appeal from Bardot, a longtime animal rights activist, came days after Le Pen spoke out about animal suffering over the weekend, claiming all meat in the Paris region is prepared using Islamic halal traditions.
Although her husband is a former Front National adviser, and she herself is a racist who has been repeatedly convicted of inciting hatred against Muslims, Bardot has not previously expressed public support for the FN.