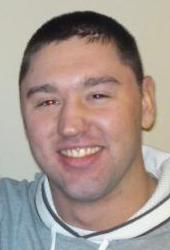 Officers serving with the National Domestic Extremism Unit have spoken of their satisfaction after a man was barred from attending any Islamic-related sites and ordered to steer clear of English Defence League protests.
Woolwich Crown Court was told how John McAndrew had been jailed for a minimum of seven months for affray and common assault in December 2011.
And at a hearing on February 20 2012 he was served with a Conviction-Related Anti Social Behaviour Order (CRASBO). The move means he must now not enter mosques, Islamic cultural centres or Muslim festival sites in Greater London for five years. He is also barred from attending any public demonstration organised by, or in conjunction with the EDL or promote their activities within England and Wales.
McAndrew (29), of Grange Road, E13, began causing trouble during demonstrations in 2011. He had been charged with affray after throwing stones onto a dual carriageway during rush hour traffic while at an EDL demonstration outside West London Magistrates Court in May 2011. The following month he attended an EDL rally in Dagenham and was identified as being involved in a group attack on two men.
McAndrew, who has previous convictions for public order offences, pleaded guilty to common assault, affray and also two charges of failing to surrender to bail. In December he was handed a 14-month custodial term to serve a minimum of seven months. The judge also ruled that the offences activated a suspended sentence in relation to an earlier affray in 2009.
The National Domestic Extremism Unit supported the application to impose an Anti-Social Behaviour Order upon McAndrew when he was convicted.
DC Alison Stuart, from the National Domestic Extremism Unit, emphasised: "The right to protest is a fundamental part of a democratic society, and we seek to strike a balance between the rights of people to protest with the rights of the community to go about its daily business without excessive disruption."
She added: "We have a duty to the wider public to take action against those individuals who have routinely exploited otherwise peaceful protests to create disorder, to prevent them from doing so in the future."
Police Oracle, 22 February 2012
---
No doubt Spiked will be publishing yet another piece by Patrick Hayes (see here, here and here) condemning the sentence as an outrageous breach of McAndrew's right to free expression.