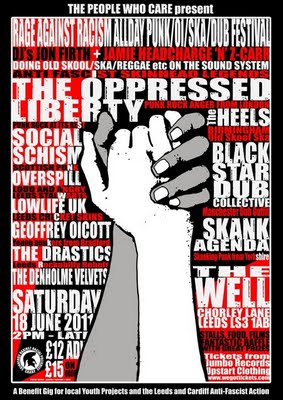 Five men including a serving soldier and seven juveniles will appear in court tomorrow charged in connection with a disturbance at an anti-racism concert.
The 12 will appear at Leeds Magistrates Court charged with affray in relation to fighting which interrupted the "Rage Against Racism" event at The Well bar in Chorley Lane, Leeds, on June 18.
During the concert attended by around 150, a group of people allegedly chanting support for the English Defence League attempted to enter. It was reported rocks and bottles were thrown and one person suffered a serious facial injury and others minor injuries. Damage included broken windows.
Police launched a major investigation – Operation Damask – to identify those involved. Appeals involving the release of CCTV images were made through the media. It was discovered plans to disturb the concert had been posted on line.
Those at court are an 18-year-old soldier from Huddersfield, a 19-year-old, 18-year-old and 17-year-old from Leeds, a 30-year-old man and 20-year-old man from Huddersfield, two 17-year-olds and three 16-year-olds Huddersfield.