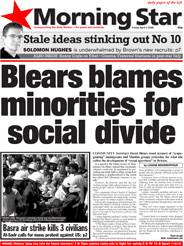 Community Secretary Hazel Blears stood accused of "scapegoating" immigrants and Muslim groups on Thursday for what she called the development of "social apartheid" in Britain.
In a speech to the Fabian Society in Westminster, Ms Blears claimed that community cohesion could only be maintained by preventing one single faith or ethnic group from dominating a neighbourhood to the extent that others feel "alienated, insecure or unsafe."
However, the minister said that she saw "nothing wrong" with cultural enclaves of "particular groups" such as "Chinatowns and Little Italys."
Her comments follow Church of England Bishop Michael Nazir-Ali's recent attack on the Muslim communities for supposedly creating "no-go zones" for whites in parts of Britain.
Furious left campaigners and politicians dismissed Ms Blears's seeming concern as "beyond satire" when "no-one has done more" than new Labour to create poor and ethnic minority ghettos through its big-business policies and anti-terror laws.
Morning Star, 4 April 2008
See also the Daily Mirror, Daily Express and Daily Mail.