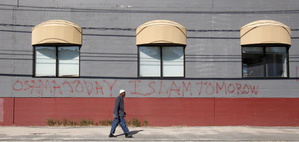 Portland Police are investigating anti-Islam graffiti painted onto the Maine Muslim Community Center on Anderson Street.
The graffiti included: "Osama today, Islam tomorow (sic)," "Long live the West" and "Free Cyprus".
The letters were written in maroon paint on the mosque's gray cement block wall. The graffiti was written sometime between late Sunday night and about 7:15 a.m. today, when it was discovered by Portland Housing Authority workers on Anderson Street.
A crew from Graffiti Busters was called in this morning to remove the graffiti, and it had finished the task by 10:45 a.m.
Officials with the community center said they recently completed purchase of the building, where they've been since 2007, for $1 million. They said they're disappointed by the graffiti and concerned about the impact it will have on children.
Portland Press Herald, 2 May 2011
See also MPBN, 2 May 2011
Update:  See "Anti-Islam message widely denounced; mayor weighs in", Portland Daily Sun, 3 May 2011