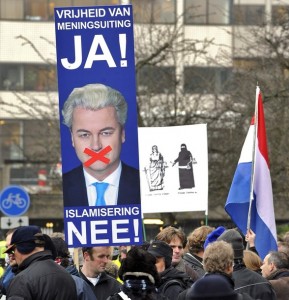 A second speech containing criticism of the anti-Islam PVV has come under fire from the party itself, the NRC reports.
Several days after a speech for Noord-Holland province was cancelled for anti-PVV content, Utrecht University officials have given assurances that a Remembrance Day speech will not mention the PVV.
Philosopher Rob Riemen is due to reflect on World War II in a speech on May 4 and has indicated he will warn of the dangers posed by PVV leader Geert Wilders, the paper says. Riemen has previously likened the PVV to a fascist movement.
But following protests from local PVV official René Dercksen, who says it is "scandalous" to use Remembrance Day for "political games", the university issued a statement saying the party will not be mentioned.
Only yesterday Wilders himself delivered a stirring defence of free speech at his trial for inciting hatred. He told the court:
"The 19th century black American politician Frederick Douglass, the son of a slave, put it as follows: 'To suppress free speech is a double wrong. It violates the rights of the hearer as well as those of the speaker.' Mr. President, members of the court, I end with a quote of George Washington, who said: 'If the freedom of speech is taken away then dumb and silent we may be led, like sheep to the slaughter.' Mr. President, members of the court, do not let this warning become reality."
Meanwhile RNW reports: "In the Province of Limburg, the Christian Democrats and conservative VVD have agreed to form a provincial government with Geert Wilders' Freedom Party. Limburg is the only province to include the controversial anti-Islam party in its provincial government. The Freedom Party (PVV) became the biggest party in Limburg in the March provincial elections, narrowly defeating the Christian Democrats."
(Photo: Wilders supporters defend 'freedom of expression')