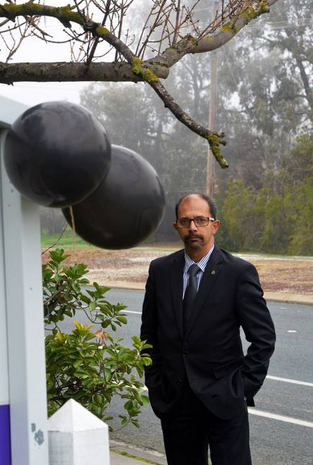 The sinister black balloons started appearing in Bendigo in May. Then 10 days ago, a cluster of them were tied to the home and business of a local councillor who supports the building of a controversial mosque.
The councillor, Mark Weragoda, was born in Sri Lanka and moved to Bendigo in the 1980s. He says the unrelenting and increasingly vengeful campaign against the Bendigo mosque – which has been approved by the council but faces a tribunal appeal – is the first time he has faced racial hatred in the regional Victorian city.
When he spoke to the council in favour of the mosque at a heated meeting the night before he found the balloons, protesters played Middle-Eastern music to try to drown him out. He said the balloons didn't worry him and he felt sorry for the "minority" groups who opposed the mosque on racial and religious grounds rather than for planning reasons.
A week before, The Bendigo Advertiser received an anonymous email headed "Mysterious black balloons revealed", which said that by accepting Islam into Bendigo, the community would be "endorsing domestic and child abuse" because under sharia law it was acceptable to "marry off child brides, perform genital mutilation, forbidding [sic] women to express themselves, and not being treated as equal to men".
The email said: "The misconception that it is 'racist' to be against the lifestyle of Islam or Muslims is incorrect as it is not a race, whilst Islam is not a religion and cannot be compared to any other religion as it is an ideology."
Bendigo's pro-mosque residents tried to nullify the spectacle of the black balloons – a chilling image, like bunches of dead flowers – by tying coloured balloons around the city. But a metal flagpole flying coloured balloons was torn down at a furniture store in the central business district, while the black balloons' symbolism of hate and vilification remained.
Until now, it has been unclear who was responsible. The likely answer turns out to be instructive because it helps show exactly how extremist far-right groups from outside have managed to infiltrate and hijack a campaign in country Victoria that, until they got involved, was about planning issues.
Fairfax Media has established that a Queensland-based organisation called Restore Australia, with a strong anti-Islamic agenda, has funded two Islamophobic Victorian groups fighting the Bendigo mosque proposal. Restore Australia is headed by former One Nation candidate Mike Holt, a Vietnam veteran and author, and Charles Mollison, a former lieutenant-colonel who also served in Vietnam. Both men live on the Sunshine Coast.
Holt confirmed that up to $10,000 from money donated to Restore Australia was given to a group called Stop the Mosque in Bendigo, and also to a Victorian chapter of the Patriot Defence League Australia (PDLA).
Stop the Mosque In Bendigo ran a Facebook page from two homes in Bendigo and Beaufort, near Ballarat. The administrators, Julie Kendall and Monika Evers, did not return calls.
Patriot Defence League Australia has chapters in most states, and Victorian members attended Bendigo council meetings about the mosque wearing T-shirts bearing its insignia. When contacted, a member from Ballarat could not categorically deny the group tied up the black balloons and sent the email to the local paper.
"No comment," he said, asking that his name not be used.
Holt said the money sent to the two groups was for printing anti-mosque material. Restore Australia has hired lawyer Robert Balzola to prepare an appeal against the City of Greater Bendigo's decision to approve the mosque. Balzola is closely linked to ultra-conservative NSW legislative assembly member Fred Nile, and also to the conservative right of the NSW Liberals. He has also opposed an Islamic school in Camden, Sydney, and a mosque in Doveton, Melbourne.
Holt said groups such as Stop the Mosque in Bendigo and the PDLA were "our foot soldiers on the ground".
Restore Australia has a sub-group called Islam4Infidels, which issues written advice for people or communities wanting to campaign against mosques. Holt said both groups worked closely with the like-minded Q Society ("Australia's leading Islam-critical movement"), the Defence Conservative Action Network (which attracts former soldiers), and a group run out of Wyee, south of Newcastle, called Concerned Citizens. Concerned Citizens set up outposts in towns or suburbs where mosques are proposed.
The Q Society's president, Debbie Robinson, and its head of media and public relations, Andrew Horwood, held a public meeting about the mosque in Bendigo in May.
Holt said Restore Australia shared material and ideology with two groups in Britain – the English Defence League, known for anti-Islamic street protests, and Liberty Great Britain, a new far-right political party.
He said the Bendigo mosque issue had brought previously separate Australian anti-Islam groups together. "We were not united before," he said, "but this issue has managed to unite us." The groups are currently campaigning against mosques in Queensland and the Northern Territory, as well as Bendigo. "We are not right-wing crazies," he said. "We are ordinary Australians opposed to the Islamisation of our country."
The Bendigo mosque will cost $3 million if it goes ahead. The owner will be the Australian Islamic Mission, which already owns the Punchbowl mosque in western Sydney.
Plans show the Bendigo mosque will have two floors, with a cafe and sports hall as well as a prayer centre. The sports hall will be available for community use. The mosque will have a 21-metre high minaret, which won't broadcast calls to prayer. The plans say the building will hold about 375 people and have car and bike parking.
The location is on the eastern semi-rural fringe of Bendigo among market gardens. The owner of the vacant land, Robert Plowright, has begun the process of selling to the Australian Islamic Mission.
Representing the project to council are potential developers the Tomkinson Group, headed by former Bendigo mayor Paul Tomkinson.
RMIT professor Des Cahill, an expert in intercultural studies, says a council such as Bendigo's would support a mosque because it could boost population, feed the economy, and attract more students from Muslim countries such as Malaysia and Indonesia to its tertiary institutions.
Professor Cahill was born in Bendigo and points out that not only does a gothic Catholic cathedral dominate the city's skyline, it also has the largest Buddhist stupa (place of worship) – The Great Stupa of Universal Compassion – in the Western world.
Yet after multicultural beginnings – a Chinese influx to Bendigo during the gold rush – since 1920, there has been a lack of immigration, unlike Shepparton and the Latrobe Valley, which experienced waves of migrants from Asia, Europe, the Middle East and Africa. "It is quite a jump for an overwhelmingly Anglo Australian city to incorporate non-Christian faith traditions," he says.
At the final count, seven Bendigo councillors were for the mosque and two were against it. The council received 437 objections. Many were from residents objecting to planning issues such as traffic, parking, noise and the impact on wildlife. But many more – submitted with identical text on identical forms with identical anti-Islamic material – were from interstate.
The local anti-mosque group Battle For Bendigo finds this frustrating. Their objection, member Julie says, is purely about planning. Julie would not give her surname because she says she is scared of retribution.
"We are not racist," she says. "The process through the council has been flawed and fraudulent. They are railroading it through. But now there are big concerns about Islam and that is the council's fault because this flawed process has caused people to investigate Islam further."
She said she had initial contact with Stop the Mosque in Bendigo. "But I told them I didn't want to deal with what they were doing and planning to do," she says. Battle For Bendigo had also been approached by the Australian Defence League, an anti-Muslim right-wing group based in Sydney.
When a mosque was proposed in Ballarat in 2012, objectors were similarly approached by far-right groups from elsewhere. But they were not welcomed and the mosque was built despite Restore Australia managing to have an anti-mosque opinion piece published in The Ballarat Courier.
The general secretary of the Islamic Society of Ballarat, Ihsan ul Haq Bajwa, says it was a "scaremongering, racist agenda" that could "incite ugly violence", but instead, "the reaction of Ballarat residents to the negative comments … has touched our hearts and assured us that goodwill and kindness do prevail in this beautiful city of ours".
A study by Melbourne's Online Hate Prevention Institute of people posting on the Stop the Mosque in Bendigo Facebook page reveals only 3 per cent were from Bendigo, with 59 per cent from other states or territories, mostly Queensland. Thirteen per cent came from overseas.
An objector to the council named Jason, from near Bendigo, says he met an unknown man in a pub at Eaglehawk with a pile of objection forms for people to sign. Another objector, Laura, from Bendigo, says she objected after encouragement from friends at her Christian church.
Scott Moreland, from Brisbane, who served in Iraq with the Australian army, says he found out about the Bendigo mosque campaign (and duly filed an objection) through right-wing Facebook pages he likes – Rise Up Australia and the Australian Defence League.
According to Andrew Jakubowicz, a specialist in multiculturalism from the University of Technology, Sydney, this method by disparate far-right groups to flirt with, then hijack, local campaigns against mosques is becoming standard in Australia.
"They track mosque applications around the country," he says. "They are looking for opportunities. If there is a small group of locals who look like they have some energy, they can end up working together. It is not conspiratorial, but it is highly opportunistic. What they try to do is shape communities' worries into a concerted political campaign, and that depends on people with political skills coming into the process."
Professor Jakubowicz is studying global internet racism. He says he has found solid links between Australian anti-Islam groups, such as the Australian Defence League, with international groups in the US and Europe that he calls "switchers". These groups compile political information and move it through global networks.
The key switcher in Europe, he says, is called Gates of Vienna, a website named after the battle in 1683 in which Christians beat Turkish Muslim Ottomans who were trying to capture the Austrian capital. The Norwegian mass killer of 77 people in 2011, Anders Breivik, wrote in his own manifesto that he read Gates of Vienna. Breivik was rabidly anti-Muslim.
Professor Jakubowicz says, ironically, the way Australian far-right groups can learn from international far-right groups then try to infiltrate communities was similar to jihadism.
"They are looking for places to build communities and draw them into campaigns. In a sense, it is a tamer mirror image of jihadism, the social psychology is not dissimilar. The practice is obviously different but the aim is similar. Activist racists in this country are involved in what I would call community development projects."