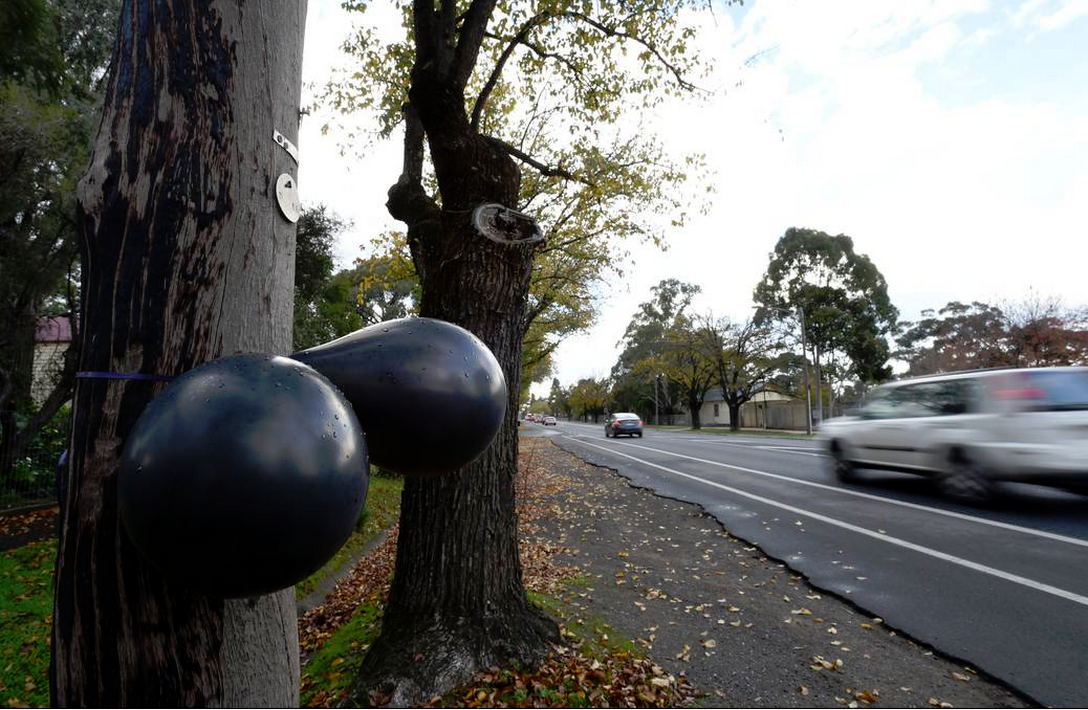 An anti-Islamic group has sent an anonymous email to all Bendigo media outlets, local politicians and prominent media commentators claiming it was behind the black balloons that have mysteriously appeared across central Bendigo.
The email has ended weeks of speculation about what the balloons mean and who is behind them.
The first line of the email states that the "black balloon campaign was established by those who are against the legislated inequality and abuse in our Western society of women and children". It says Islamic influence, especially in relation to abuse of women and children, is "creeping into our Western culture".
It says Western communities are being "forced to accept cultures like Islam". The final line of the email reads: "The view of the black balloon supporters is to accept Islam into our community is endorsing domestic and child abuse in our community." The email also says it is a "misconception" that the views expressed are "racist".
Bendigo's Centre for Non-Violence chief executive Margaret Augerinos said the group's views were racist. "I don't believe that it's an acceptable view to hold," Ms Augerinos said.
Ms Augerinos said it was wrong to single out a particular cultural group. "We know that violence occurs across all classes and cultures," she said. She said her organisation provided services to women of all cultural backgrounds. "We see men who perpetrate violence from all cultural backgrounds and this is a universal problem that occurs across the world at epidemic rates," she said.
Maya Avdibegovic is the chief executive of Intouch Multicultural Centre Against Family Violence, a Melbourne-based family violence support service for women and children from migrant families. "I just find it appalling and I'm really outraged by things like this," Ms Avdibegovic said. "I think where culture plays a role in this whole issue, is that it adds to the complexity of the issues," she said. "Culture is never an excuse for violence."
Bendigo Advertiser, 16 June 2014
---
The black balloons campaign takes place against the background of an imminent decision by the local council over a planning application for a new mosque.
The Bendigo Advertiser reports that there have been 254 objections to the proposal, with 67% "based on religious grounds and concern over the influence of Islam. The objections note the 'root of violence, negative change in communities, terrorist threat, introduction of Sharia law, dilution of Christian values and treatment of women'". 53 objections raised concerns over a Muslim enclave developing around the mosque, while 105 and 66 objections were based on the impact of the mosque on traffic and parking respectively.
The anti-mosque campaign was launched by the Concerned Citizens of Bendigo group who would appear to be behind the "Stop the Mosque in Bendigo" Facebook page. They are being assisted by self-styled "mosquebuster" Gavin Boby, who recently addressed a Concerned Citizens meeting by video link (they hope to bring him over for a personal appearance) and has helped them produce a leaflet giving advice on how to register objections to the mosque.
The Stop the Bendigo Mosque group makes no secret of the fact that the black balloons stunt was organised by its supporters and has reproduced the statement explaining the balloons campaign on their Facebook page.
Update:  See "Bendigo mosque approved amid local protest", Islamophobia Watch, 19 June 2014