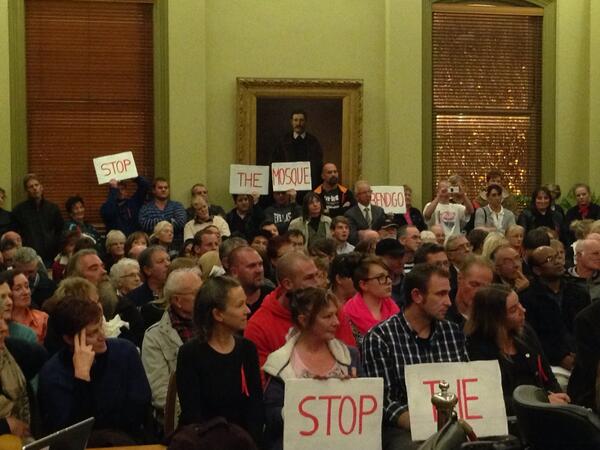 A Victorian council has approved the construction of a $3 million mosque in the regional centre of Bendigo despite fierce opposition from local residents.
More than 200 protestors packed a City of Greater Bendigo meeting on Wednesday night, heckling councillors, and calling on them to reject the plans. The proposal for the $3 million mosque, which includes two prayer rooms, a shop and a community sports hall, received more than 400 letters of objection, with more than half of them based on religious grounds.
Bendigo Councillor Elise Chapman says many residents are worried about an "influx" of Muslims in their area. "This isn't about racism. This isn't about bigotry. It's genuine concern," she told SBS.
Council documents show the majority of complaints related to concerns over the influence of Islam, citing the threat of terrorism, the introduction of Sharia and the dilution of "Christian values".
But Ms Chapman says safety concerns were among the objections, citing a 2011 case that came before the Melbourne County Court in which a young woman was raped by a group of young men at Flora Hill. "I've received numerous pleas from women about their safety. The people are concerned," she said.
A campaign on Facebook to "stop the Mosque in Bendigo" has so far attracted more than 7,000 likes. The page features photographs of the Bendigo councillors who approved the plans, labelling them "traitors".
"We are all brainwashed and told how great multiculturalism is. We are told it creates diversity… [but] multiculturalism further divides people", one commenter writes. "Islam will bring forced marriages, acid attacks on women, bashings of local white men, loss of local jobs to Muslim refugees. It will create a shortage of housing for locals … and unwanted competition securing a rental property."
The project also received about 40 letters of support.
Bendigo Mayor Barry Lyons said in a statement there are many conditions on the permit to ensure the impact on neighbours was acceptable. "Now a decision has been made, the applicants can move forward with the next stage in the development process," Mr Lyons said.
Councillors voted seven to two to support the $3 million development, which is funded by the Australian Islamic Mission. The mosque would offer two prayer halls, a minaret and a sports facility.
Opponents say they're now preparing to go to the Victorian Civil and Administrative Tribunal (VCAT) to fight the plans. Many are angry at what they call a lack of community consultation. Previously the council had said there were circumstances in which consultation does not occur, for example when "it is not possible to hold a reasonable conversation between the parties involved".
Director of Planning and Development for the City of Greater Bendigo, Prue Mansfield, says community opposition to this kind of project was not uncommon. "As usual, with developments of major activity centres like churches people are concerned about parking, they're concerned about traffic and how people will get to the site."
Dr Seyed Sheriffdeen, from the Australian Islamic Mission, says the mosque is needed. "When we build a mosque or church, we build a bigger venue where it can cater funerals, weddings, and community gatherings … There are churches that have space for 500 or 1000 people but maybe five people end up going to mass every week. So a similar thing applies to other places of worship. And when we build a venue, we make sure it caters for future needs."
See also "Legal challenge looms over Bendigo mosque plan", Sydney Morning Herald, 19 June 2014
And "Bendigo mosque opponents will appeal against council's decision to approve", Guardian, 19 June 2014
Update:  See "Not a fan of Islam: Elise Chapman", Bendigo Advertiser, 20 June 2014