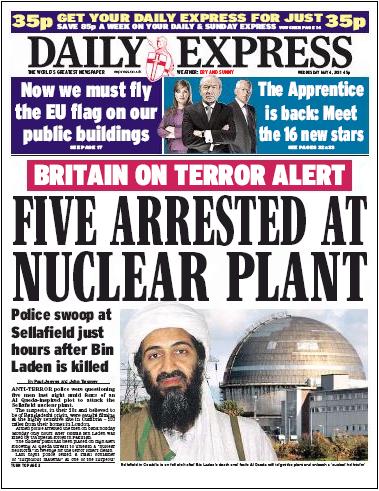 This was the banner headline in Wednesday's Daily Express. The paper reported:
Anti-terror police were questioning five men last night amid fears of an Al Qaeda-inspired plot to attack the Sellafield nuclear plant. The suspects, in their 20s and believed to be of Bangladeshi origin, were caught filming at the highly sensitive site in Cumbria – 250 miles from their homes in London.
Armed police arrested the men on bank holiday Monday only hours after Osama Bin Laden was killed by US special forces in Pakistan. The nuclear plant has been placed on high alert following Al Qaeda threats to unleash a "nuclear hellstorm" in revenge for the terror chief's death.
Last night police seized a small container of "suspicious material" at one of the suspects' homes.
Predictably, the irresponsible media scaremongering produced this sort of response from EDL supporters, who take their line on Muslims and Islam directly from the tabloid press.
Yesterday BBC News reported that the arrested men had all been freed. ENGAGE asked the question: "what likelihood is there of proportional coverage by the media of the men being released without charge?"
The answer, of course, was none whatsoever. Buried at the bottom of page 7 in today's issue of the Express we find a single paragraph which reads:
The five students who sparked an Al Qaeda terror alert near the Sellafield nuclear power station were there because of a satnav error. Rather than being terrorists avenging the death of Osama Bin Laden, the Bangladeshis from London were enjoying a picnic on Monday after putting CA20 in the satnav instead of CA12 for a hike on Scafell Pike, Cumbria, England's highest peak. They were freed without charge.