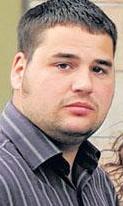 An off-duty policeman was slapped in the face after asking non-Muslim gatecrashers to leave a private meeting about the Lincoln mosque, a court heard. Daniel Odling [pictured], 26, is on trial accused of religiously aggravated threatening behaviour, alongside a 17-year-old man charged with assaulting PC Rizwaan Chothia, again religiously motivated.
Lincoln Magistrates' Court heard a group of six or seven men entered the Grandstand, in Carholme Road, where 30 to 40 Muslims were gathered on July 9 last year. The meeting was to discuss the next steps for a new place of worship after Lincoln Islamic Association's application for a mosque in Boultham Park Road was rejected. The uninvited group turned up following publicity about the event.
Deborah Cartwright, prosecuting, said PC Chothia, a Muslim, and others, asked the males to leave the private meeting. Miss Cartwight said: "They refused to go. PC Chothia explained the meeting was for Muslims only and Odling said: 'We don't want you here'."
The group eventually left but "extremely profane and blasphemous language" was then directed at members of the Muslim community in the car park, the court was told.
Miss Cartwright said the 17-year-old youth squared up to PC Chothia outside and slapped his face, before another in the group "placed his forehead to his in a headbutting motion".
The court heard he did not retaliate to either assault. Miss Cartwright said: "Certainly, as far as PC Chothia is concerned, he was caused distress, others were caused distress and he observed the distress caused in their faces."
Giving evidence before the court, PC Chothia said: "As soon as prayers were finished, about seven individuals entered the hall and began taking issue with the meeting verbally. I recognised some as the individuals I had seen outside. An elder community member politely asked them to leave but they were a very visible and confrontational presence.
"The males were sporting scowls and angry looks and their tone of voice was threatening and confrontational. When I mentioned the police were coming, they left. When I got outside they began shouting vulgar, aggressive, blasphemous phrases. It was extremely insulting and the height of blasphemy to any Muslim."
Witness Sultan Mahfouz, a civil engineer, told the court: "For the first time in my 33 years in Lincoln the events made me feel intimated as a Muslim."
Odling, of High Street, Blyton, Gainsborough, and the youth, from Cherry Willingham, who cannot be named for legal reasons, deny the charges.
---
Although the report does not mention it, the disruption of the mosque meeting was organised by the English Defence League. The EDL Casuals United blog openly boasted about their involvement, commenting: "Good work chaps, NO SURRENDER."