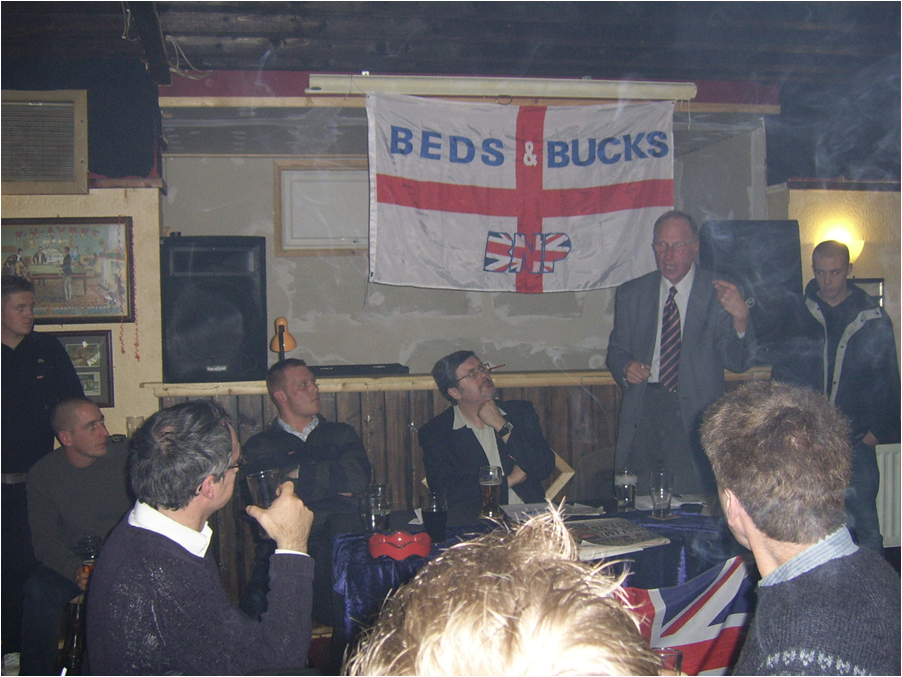 EDL leader Stephen Yaxley-Lennon (standing, left) at a BNP meeting in 2007
The English Defence League's token Sikh, Guramit Singh, has written a long, rambling letter addressed to members and supporters of the Turban Campaign. It is Singh's belated response to the statement issued last December by representatives of Britain's Asian communities opposing the EDL and the British National Party.
Singh takes particular exception to the statement's bracketing of the EDL with the BNP: "I'd like to state now, the English Defence League denounces the British National Party! … Its current leader was a member of the National Front and one of the founders, John Tyndall was a Neo Nazi. Why would the EDL want to be linked to the BNP? We don't, but our opponents want us to be!"
But the links between prominent figures in the EDL and the BNP are well established. According to Searchlight, EDL leader Stephen Yaxley-Lennon ("Tommy Robinson") joined the BNP in 2004 and Three Counties Unity published a photo of Lennon attending a party meeting in 2007 (see above), so he was obviously in and around the BNP for a number of years. The speaker to whom Lennon is listening in the photo is the veteran Tyndallite, former NF member and unreconstructed neo-Nazi, Richard Edmonds.
Three Counties Unity also reported that Lennon's second-in-command, his cousin Kevin Carroll, "has been an enthusiastic BNP supporter, living on the same estate as Luton BNP organiser Peter Fehr. He is well-known to local anti-fascists and was only dissuaded from standing as a candidate in the 2007 Luton Council elections by a last-minute plea from his partner, Mary Stevenson. He did, however, sign nomination papers along with Stevenson for the BNP candidate for Farley in that election – Robert Sheddock."
Singh ends his letter to Turban Campaign supporters on a conciliatory note: "if I can be of any assistance to yourselves in the future no matter what the issue please do not hesitate to contact me via my secretary at hel.gower@englishdefenceleague.org".
That would be this Hel Gower, would it? The Hel Gower who announced that she would be voting for the BNP or the neo-Nazi British First Party.