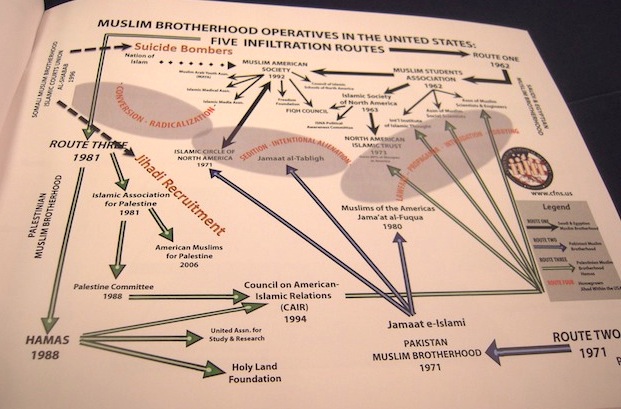 Days after a Norwegian terrorist allegedly motivated by a fear of Muslim infiltration killed 76 people, a Florida group took to Capitol Hill to accuse thousands of American Muslims of being a "fifth column". Its presentation, a link analysis compiled from "open source" material, is collected into a database and brought to Washington by an influential Congressman.
An obscure nonprofit called Citizens for National Security compiled a "database" of "almost 6000 individuals and almost 200 organizations" in the United States linked in some way to the Muslim Brotherhood, the influential 80-year old Egyptian Islamic group.
These individuals and organizations "form a fifth column movement, a subversive movement intended to help undermine the United States as a secular government, as a Judeo-Christian society", said Peter Leitner, one of the founders of Citizens for National Security. Leitner identified himself as a retired federal employee who used to perform "counterterrorism-type analysis".
Citizens for National Security would not name any individual listed in the database, which it maintains is compiled exclusively from "open-source" material. Asked by Danger Room who would have access to it, Leitner said it would be available to "someone in the government [or] law enforcement". U.S. intelligence and Homeland Security agencies have recently warned about the rising threat of "lone-wolf" homegrown terrorists, which al-Qaida is trying to inspire.
But U.S. citizens don't need to have been charged with any crime to be mentioned in the database, he said, only "connected" to the Muslim Brotherhood, which is not a banned organization inside the United States.
To release the database to private citizens would be "irresponsible", Leitner said, but he aggressively rejected any association between his research and the rampage allegedly committed by Anders Behring Breivik in Norway on Friday. In a sprawling online manifesto, Breivik accused European elites of acquiescing to a campaign of Muslim infiltration that threatened European civilization.
Breivik believed that "there was a certain type of threat" and might have been "correct", Leitner said, but Breivik was a mere "lunatic". "Having situational awareness of your condition," Leitner said, "is in no ways inimical to national survival."
Citizens for National Security released its accusation in the basement of the Cannon House Office Building on Capitol Hill, thanks to the patronage of Rep. Allen West (R-Fla.), who blessed the group's work. West, an Army officer whose career ended after he fired a gun at the head of an Iraqi detainee, said the group's research "is about the protection of each and every American citizen".
See also Matt Gertz, "Fox doesn't even know who they're using to smear Muslims", Media Matters for America, 25 July 2011