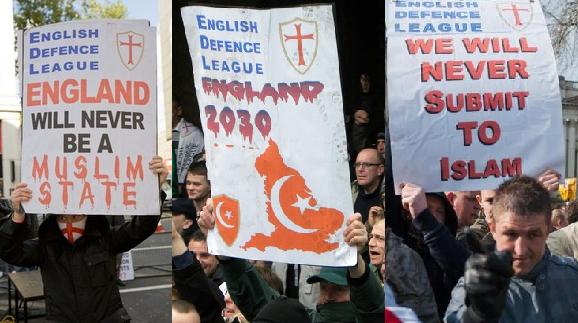 Mass killer Anders Breivik told Right-wing extremists in Britain to "keep up the good work" as he plotted his double atrocity in Norway. He was in contact with supporters of the English Defence League days before Friday's bombing and shooting spree in which 76 people, most of them teenagers, were killed.
Breivik was told he would be welcome at their UK demonstrations, to which he replied: "I hoped so: it's our common struggle against the islamofascists." Breivik used an internet pseudonym to communicate with supporters of the EDL and told them: "You're a blessing to all in Europe."
His contacts with the EDL, in which he spoke of going to football matches in Bradford, were revealed today by anti-fascist organisation Searchlight. Pressure grew on David Cameron to announce a clampdown on far-Right groups.
Today Searchlight told how Breivik, who posted his messages as "Sigurd Jorsalfare", a 12th century King of Norway who led one of the Crusades, wrote a series of chilling posts. Only a few days before Friday's attacks the messages to EDL supporters stopped as he began the final countdown to his massacre.
Searchlight's editor Nick Lowles: "This proves conclusively Breivik was in contact with the EDL, shared their aims and objectives and expressed a desire to join them on their demonstration. It is quite clear that the Home Office now need to classify the EDL as an extremist Right-wing organisation and to devote similar resources to monitoring their activities as they would other extremist groups." The EDL has previously said that it has no official contact with Breivik.
In the online messages Breivik wrote: "To you all good English men and women, just wanted to say that you're a blessing to all in Europe, in these dark times all of Europe are looking to you in search of inspiration, courage and even hope that we might turn this evil trend with Islamisation all across our continent. Well, just wanted to say keep up the good work it's good to see others that care about their country and heritage."
In another posting Breivik claims he visited Bradford with a friend "some years ago". He wrote: "I've seen with my own eyes what has happened to england, i was in bradford some years ago, me and a friend walked down to the football stadium of bradford, real 'nice' neighborhood, same thing in the suburbs of London."
One EDL supporter then wrote to Breivik: "Bravo, admire your views and courage. no surrender and welcome."
Searchlight also said that a millionaire computer engineer living in north London is a backer of the EDL. Alan Lake, 45, has admitted providing funds to the organisation and is alleged to have referred to the Norwegian massacre on a far-Right forum earlier this week saying: "The chickens have actually come home to roost." Mr Lake could not be reached for comment today.
MPs today called on the Government to investigate Breivik's links to the EDL. Breivik is reported to have met leaders of the EDL in March last year when he apparently came to London for the visit of Geert Wilders, the Dutch Right-wing politician.
Daryl Hobson, who organises EDL demonstrations, said Breivik had met members of the group. There are also reports that he attended two EDL marches in the UK last year, one in Newcastle and one in London.
Evening Standard, 26 July 2011
---
Paul Ray, meanwhile, has been suggesting that the Englishman who Breivik described as his "mentor" is none other than the EDL's Alan Lake. It is true that Lake does have a penchant for calling for his political opponents to be killed (see here and here), though he appears to be advocating state executions rather than acts of individual terrorism. Whether that subtle distinction is clear to the people he inspires, however, is another question.
Update:  See also "Anders Behring Breivik had links to far-right EDL, says anti-racism group", Guardian, 26 July 2011
Update 2:  And "EDL supporter: Breivik's a 'hero in the war on Islam'", Socialist Worker, 26 July 2011